Soya lecithin is a plant-based formulation and a perfect liver support that boosts the necessary antioxidant for enhanced liver function and regulated cholesterol levels.
✔ No side effects
✔ Facilitates your bile flow
✔ Relieves the liver toxicity
✔ Enhances blood circulation
✔ Shields liver from alcoholic damage
Regular price
$12.99 CAD
Sale price
$11.49 CAD
Unit price
per
Sale
Sold out
View full details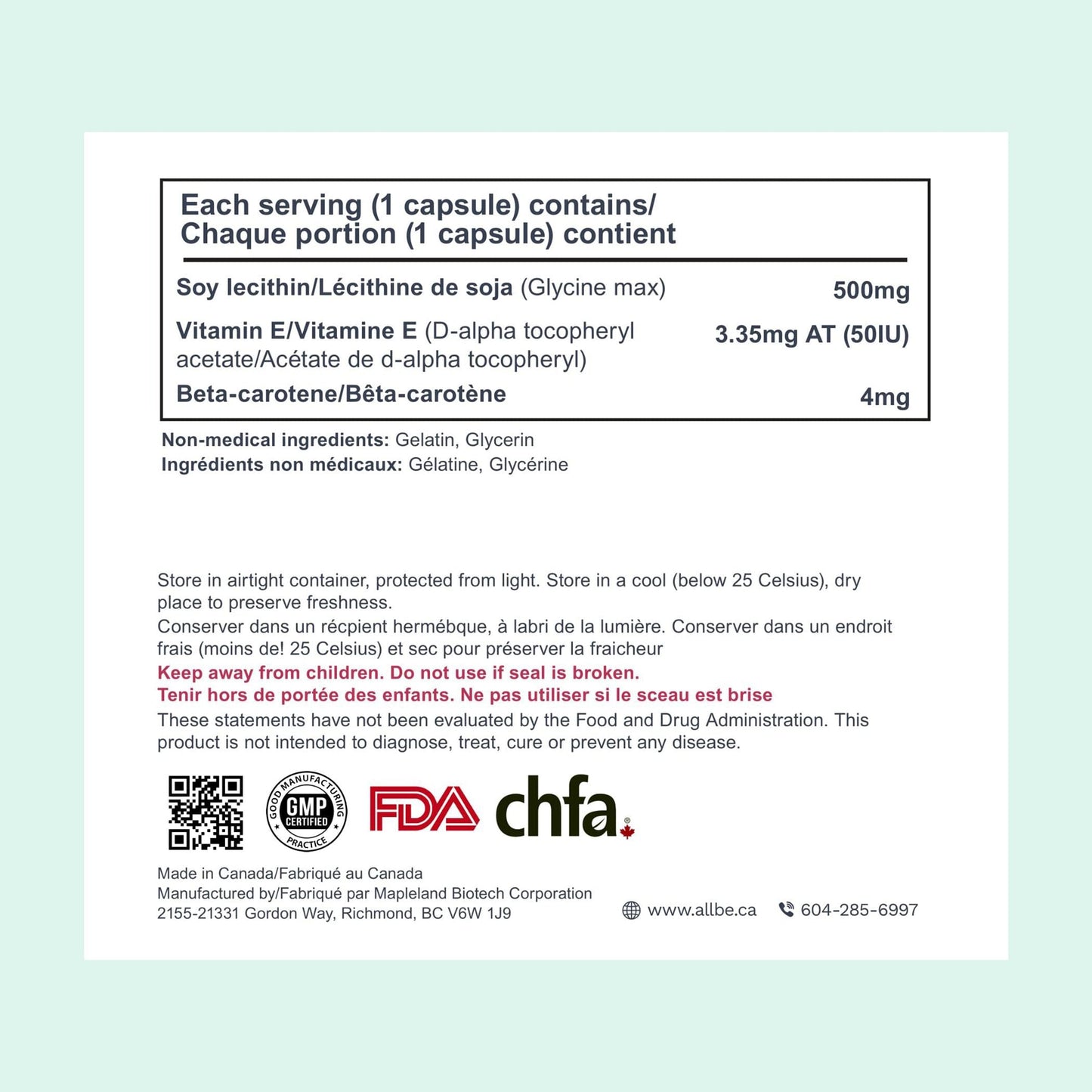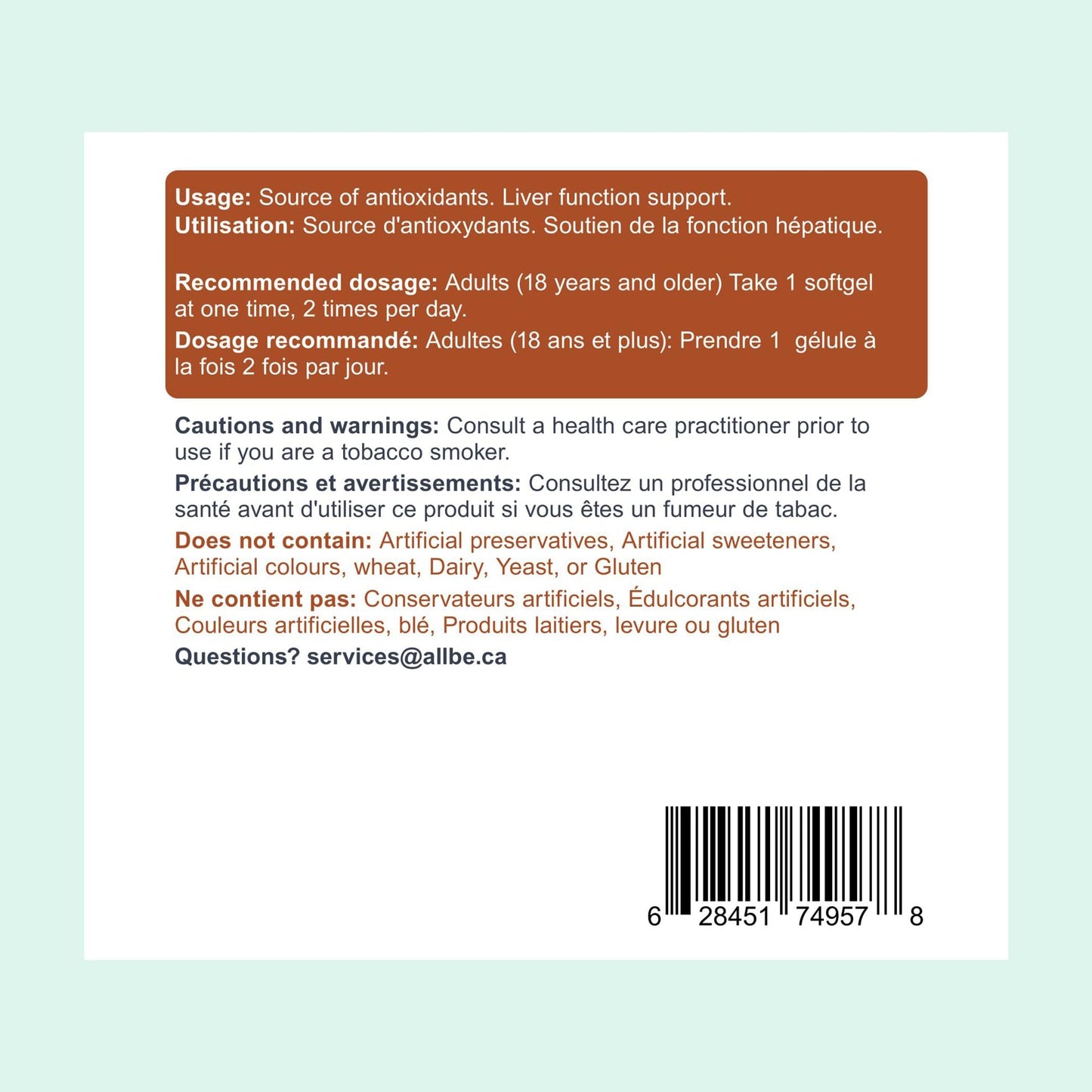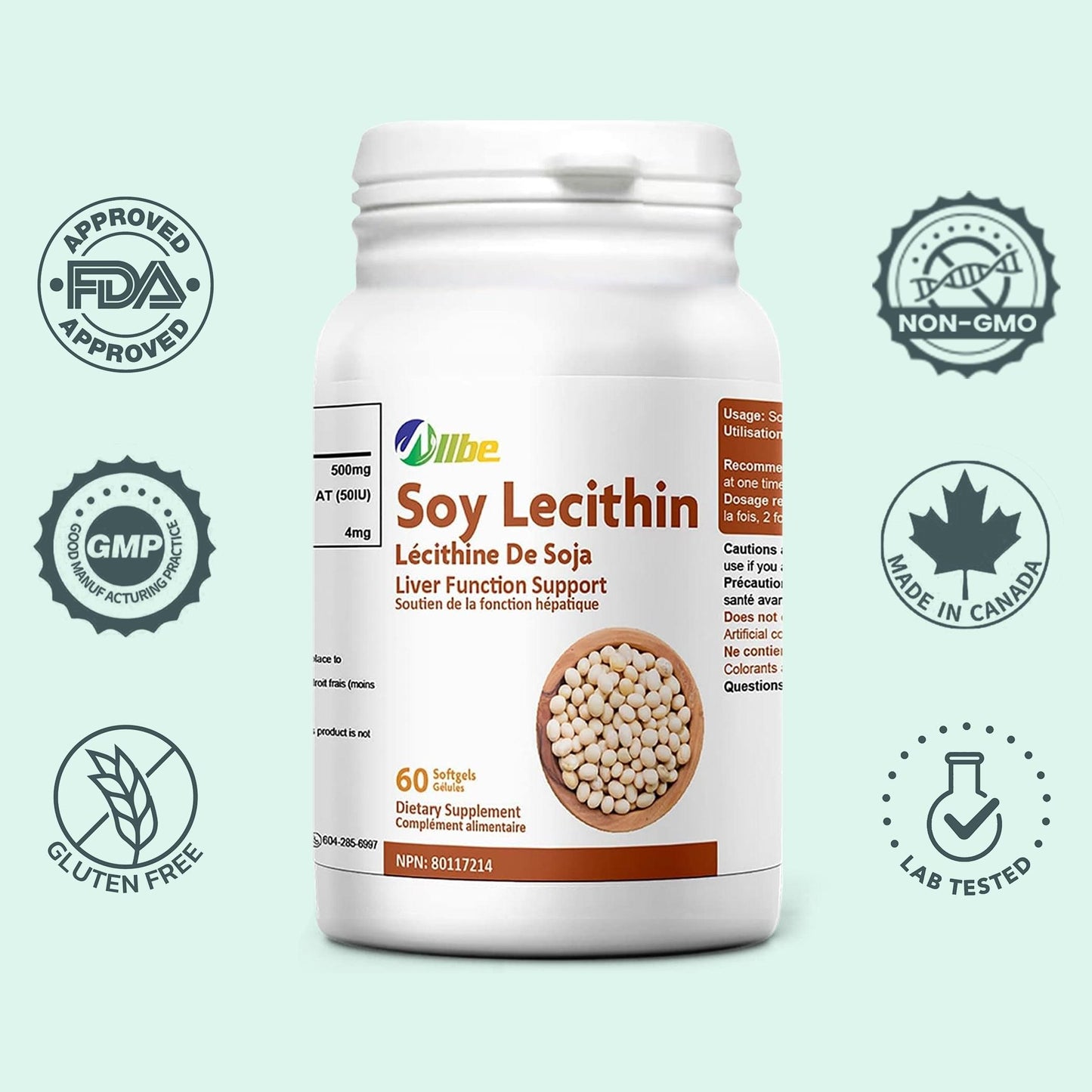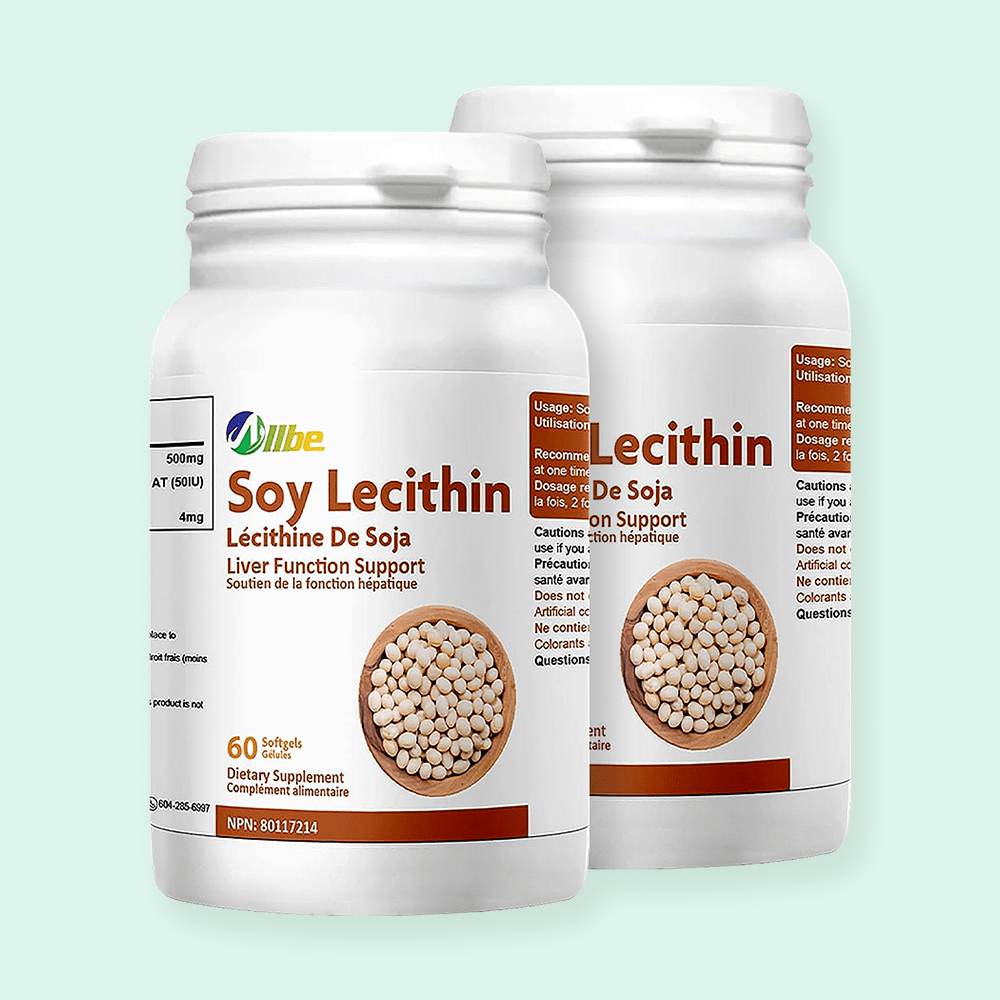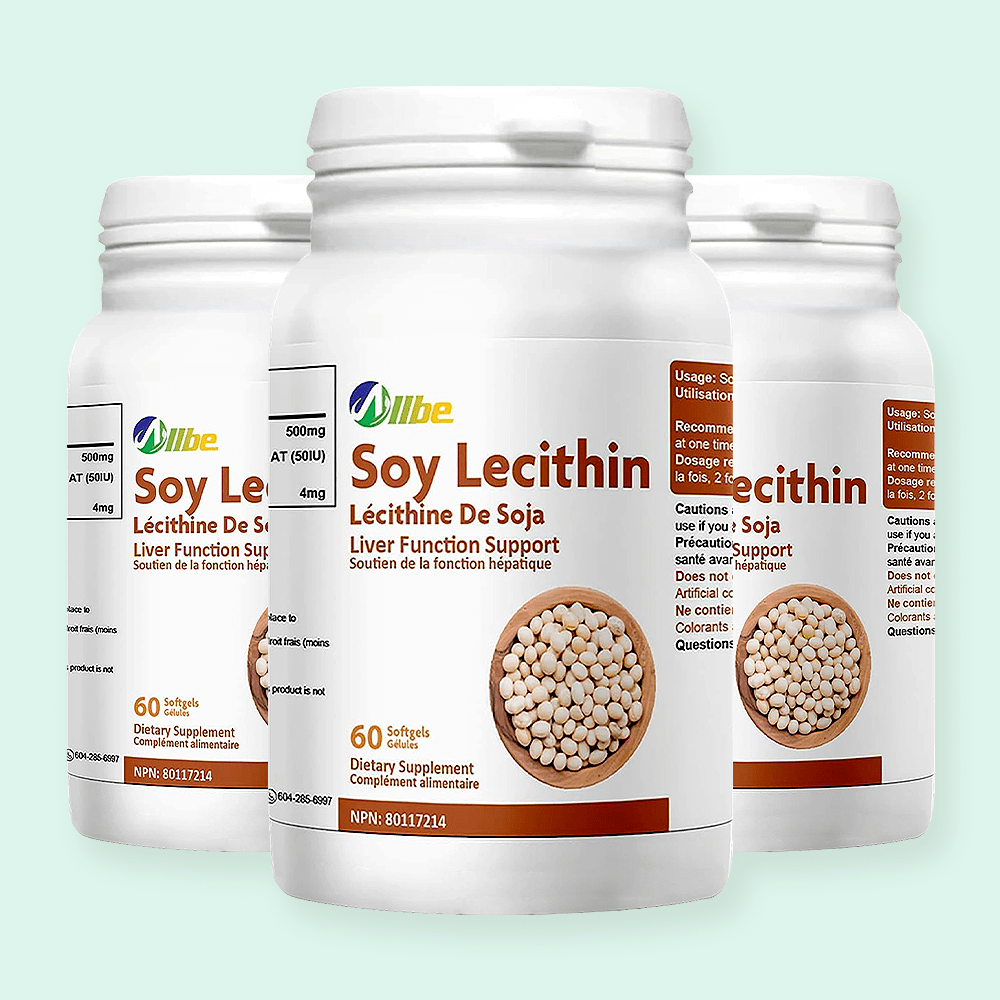 Description
expand_less
expand_more
Tired of cholesterol and toxins buildup within your body? Soya lecithin is a plant-based ingredient that provides the necessary detoxification boost, enabling the human liver to remove toxins from the body. It emulsifies fat molecules, thus facilitating smooth blood circulation.
Lecithin is a primary source of choline, which is a crucial nutrient for brain health. It aids in memory, mood, muscle control, and other brain and nervous system functions. Soy flavones and vitamin E also enhance cardiovascular health by regulating LDL/HDL and triglyceride levels. These supplements also regulate blood pressure. Vitmain E present in this supplements also helps to gain a radiant and a flawless looking skin.
So if you are thinking to get an all-rounder supplement that would work for your overall health, soya lecthin supplement is definately your thing.
Benefits
expand_less
expand_more
Soy Lecithin helps you in the following.
Enhanced circulation
Soy lecithin improves circulation by promoting the breakdown and transport of fats in the bloodstream, which can prevent the buildup of fatty plaques in the arteries. This supports smooth, unobstructed blood flow, thereby improving overall circulation.
Brain and nerve function
Soy lecithin supplements boost brain and nerve function by providing choline, a critical nutrient that supports the structure of brain cells and aids in neurotransmitter production.
Liver protection
Soya lecithin supplement sources you with essential anti-oxidant nutrients that scavenge hepatic cells and tissues from free radical-induced oxidative stress. It also supports the production of essential liver enzymes, promoting overall liver health and function.
Enhanced liver detoxification
Soy lecithin is crucial in fat metabolism and detoxification. It contains choline, a nutrient essential for producing phosphatidylcholine necessary for VLDL synthesis and secretion. This process allows the liver to transport fats and cholesterol from the organ.
soy lecithin helps prevent the accumulation of excess fats in the liver, aiding the organ in its natural detoxification processes.
Cholesterol control
Soy lecithin supplements help control cholesterol by enhancing the metabolism and transport of cholesterol and fats in the body, reducing their accumulation in the arteries.
Aids breastfeeding
Soy lecithin supplements may aid breastfeeding by reducing the viscosity of breast milk, potentially helping to prevent and treat recurrent blocked ducts.
Benefits
expand_less
expand_more
Ingredients
expand_less
expand_more
Plant-Based Ingredients
• Soya lecithin
• Beta carotene
• Vitamin E
Non-plant Based Ingredients
• Gelatin
• Glycerin
Recommended Intake
expand_less
expand_more
One capsule at a time and twice a day is recommended to be safe and effective. However it's always recommended to consult a medical professional to seek the desired dosage.
We take pride in delivering quality service that earns our customers' trust
Clinically tested ingredients for liver function
Soy Lecithin Softgels pack of 2
Nourish your body with 2 bottles of Soy Lecithin Softgels. Support brain function, heart health, and overall well-being with this natural supplement.
Soy Lecithin Softgels pack of 3
Fuel your vitality with 3 bottles of Soy Lecithin Softgels. Enhance cognitive function, promote cardiovascular health, and nourish your body from within.
I've been taking these supplements for a few weeks now, and I'm really impressed with the results. I no longer feel sluggish or run down in the afternoons, and I'm able to maintain my energy levels throughout the day. Additionally, I appreciate that these pills are made with natural ingredients, which is important to me.
Overall, I would definitely recommend these supplements to anyone looking for a natural and effective way to boost their energy levels.

Discover the power of ALLBE making wellness impacts on our valued customers.
I'm impressed with ALLBE soy lecithin supplement! It helped me maintain healthy cholesterol levels and boosted my energy.
I'm glad I found ALLBE Soy Lecithin and beta carotene supplement! It's an all-in-one supplement that supports my liver function, heart health, and overall wellness.
ALLBE Soy Lecithin's antioxidant power is amazing! I've noticed a significant improvement in my immune system and overall health since I started taking it.
ALLBE Soy Lecithin is a game-changer! This antioxidant supplement supports liver function, heart health, and wellness, an essential addition to any routine. Glad I found it!
Experience the benefits of a healthy liver and stronger immunity with our antioxidant supplement.
Frequently asked questions
What is Soy Lecithin and what are its benefits?
expand_less
expand_more
NSoy Lecithin is a naturally occurring fatty substance found in soybeans. It provides benefits such as supporting liver
function and promoting healthy cholesterol levels.
What is the recommended serving size for this supplement?
expand_less
expand_more
The recommended serving size is one softgel, taken twice daily with meals.
Are there any side effects associated with this product?
expand_less
expand_more
This product is generally considered safe for most people. However, some people may experience
mild gastrointestinal discomfort, such as bloating or gas.
Is this product vegan-friendly?
expand_less
expand_more
Yes, this product is suitable for vegans as it is made from soybeans.
Can this supplement be taken by pregnant or breastfeeding women?
expand_less
expand_more
It is recommended to consult with a healthcare professional before taking any supplement while pregnant or breastfeeding.
Is this product gluten-free?
expand_less
expand_more
Yes, this product is gluten-free.
What is the source of Vitamin E in this supplement?
expand_less
expand_more
The source of Vitamin E in this supplement is d-alpha Tocopheryl acetate, which is the best form for the human body.
How is this supplement manufactured?
expand_less
expand_more
This supplement is manufactured in an FDA-registered facility in Canada, adhering to GMP guidelines.
Get glowing skin naturally
Discover the secret to naturally glowing skin with ALLBE Soy Lecithin! Packed with antioxidants, beta-carotene, and vitamin E for radiant results.
Impressive results
Unexpectedly small yet mighty! The Soya lecithin supplement boosted my energy and improved my daily focus. It's like a secret weapon in a tiny package.
Quality product
I struggled with high cholesterol levels despite my efforts to maintain a healthy lifestyle. Enter the soya lecithin supplement, which has been a game-changer for me. Not only has it helped me regulate my cholesterol, but it has also supported my cardiovascular health, giving me peace of mind and renewed vitality. I am also impressed with its other ingredients, such as Vitamin E. The packaging is also good.
Worked for my bad cholesterols
A lifesaver for my cholesterol woes! Soya lecithin supplement helped me regulate my cholesterol levels and led me to a healthier heart. I have finally said Goodbye to the statins
Good product
A pleasant surprise in a tiny capsule! Soya lecithin supplement improved my memory and concentration and enhanced my mood.
Travel-friendly packaging
Soya lecithin supplement: the perfect travel companion! The compact size and easy-to-carry packaging made it effortless to maintain my brainpower even on the go. I am also noticing better detoxification now. Highly recommended.