All natural cough lozenge made to relieve persistent cough and irritated throat
✔ Facilitates  easy breathing
✔ Clears mucous
✔ Relieves chest congestion
✔ Enhances respiratory comfort

Regular price
$44.99 CAD
Sale price
$34.99 CAD
Unit price
per
Sale
Sold out
View full details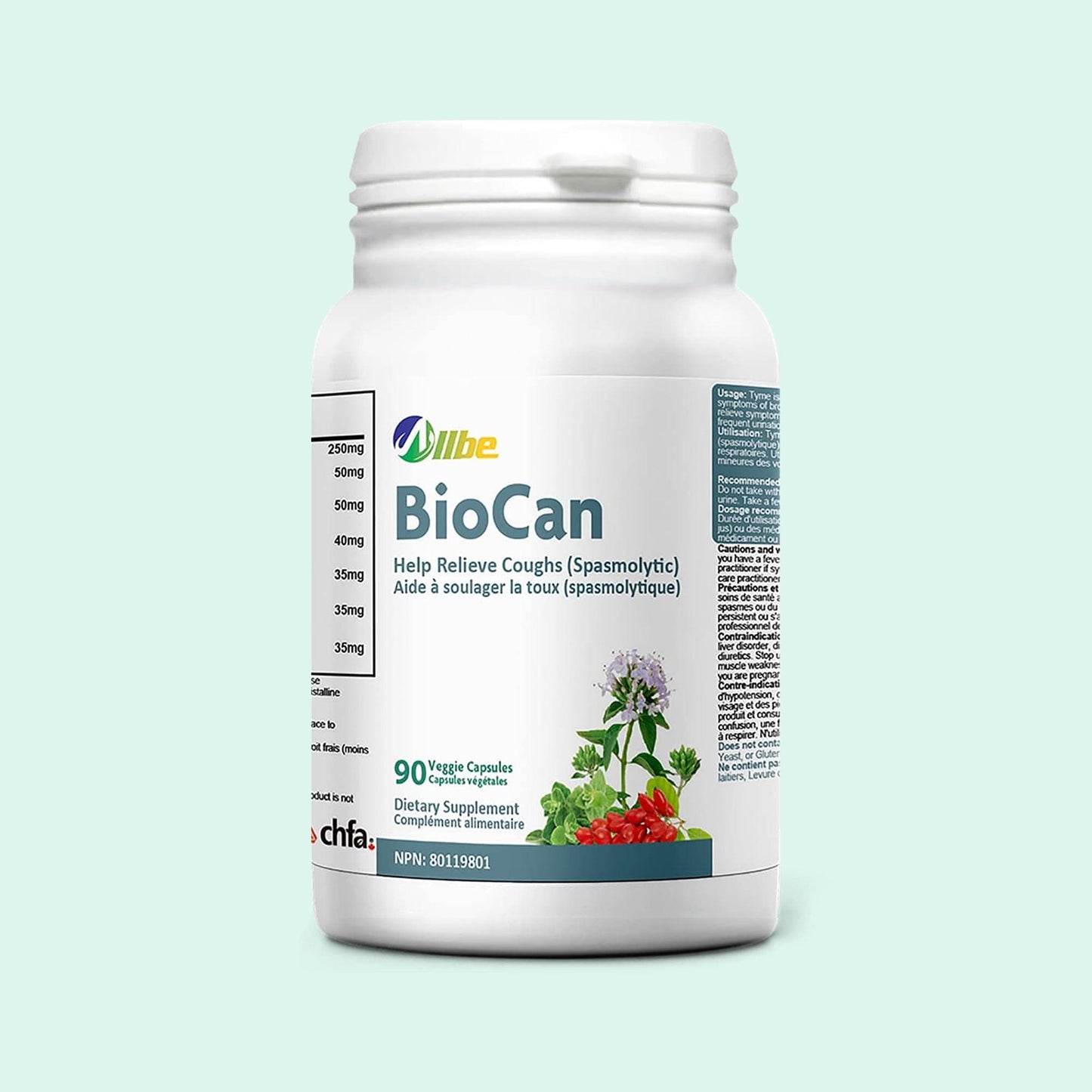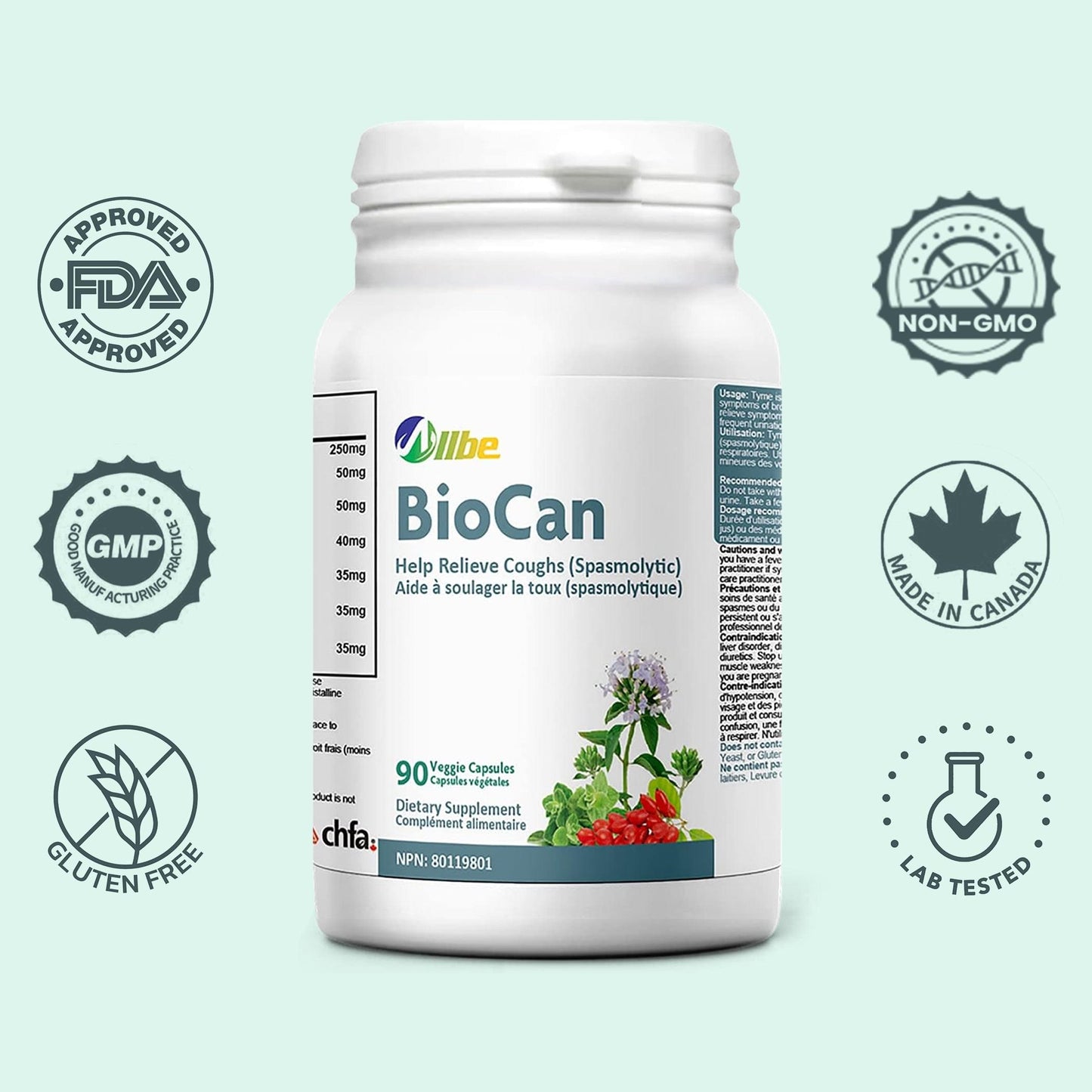 Description
expand_less
expand_more
BioCan Cough Relief Supplement combines a unique blend of natural ingredients to provide comprehensive support for cough relief. With the synergistic effects of all the ingredients, this powerful formula is designed to address cough symptoms and promote respiratory wellness.
Oregano Extract and Thyme Extract possess antimicrobial properties that help combat respiratory infections. At the same time, Common Barberry and Jin Yin Hua Extracts reduce inflammation in the airways, relieving cough and irritation. Black Elder Extract and Uva Ursi Extract aid in loosening and expelling mucus, clearing the respiratory passages for improved breathing. Cinnamon Extract adds a soothing touch, alleviating throat discomfort and calming cough reflexes.
Take control of your cough and embrace respiratory wellness. Order BioCan Cough Relief Supplement now and discover the natural relief you've been seeking.
Benefits
expand_less
expand_more
BioCan 90 helps you in the following.
Soothes Scratchy Throat
These supplements have soothing properties that help to alleviate throat irritation. They coat the throat with a protective layer, soothing inflammation and reducing the urge to cough. This soothing effect brings comfort and relief to a sore and scratchy throat.
Treats persistent cough
These supplements are effective in calming persistent coughs. They help to suppress the urge to cough, allowing your throat and respiratory system to rest and recover. They promote peaceful and uninterrupted sleep by soothing the irritation that triggers coughing.
Relieves respiratory airways
These supplements work to open up and clear the respiratory air passages. They help to reduce inflammation and remove excess mucus or phlegm that can block the airways. By doing so, they facilitate more accessible and more efficient breathing.
Reduces mucous
One of the key benefits of these supplements is their ability to loosen and thin mucus in the airways. They contain ingredients that aid in breaking down and mobilizing mucus, making it easier to expel from the respiratory system. By reducing mucus congestion, they enhance airflow and improve respiratory function.
Connective Tissue support
Joint supplements can support other connective tissues, including tendons and ligaments. This can help maintain their integrity, flexibility, and resilience.
Sleep and Anxiety aid
By reducing the urge to cough and relieving a sore throat, they promote a night of more restful and uninterrupted sleep, allowing you to wake up feeling refreshed. Certain cough relief supplements may have natural compounds that possess anxiolytic properties. These compounds can help to alleviate anxiety symptoms, such as restlessness or nervousness, providing a sense of tranquility. By reducing anxiety, they contribute to a more peaceful state of mind.
Benefits
expand_less
expand_more
Ingredients
expand_less
expand_more
Plant-based ingredient
• Oregano Extract
• Thyme Extract
• Common Barberry
• Jin Yin Hua Extract
• Black Elder Extract
• Uva Ursi Extract
• Cinnamon Extract
Non Plant based on Extract
• Hypromellose
• Magnesium stearate
• Oligofructose
• Microcrystalline cellulose
Recommended Intake
expand_less
expand_more
1 capsule at a time and twice a day is recommended to be safe and effective. But avoid having it with acidic food as it will affect its bioavailability.
We take pride in delivering quality service that earns our customers' trust
Nature's remedies for cough relief
BioCan capsules pack of 2
Enhance your cellular health with 2 bottles of BioCan capsules. Support your body's natural defense mechanisms and overall well-being.
BioCan capsules pack of 3
Experience the power of 3 bottles of BioCan capsules. Boost your cellular health and promote optimal functioning of your body's systems.
I've been taking these supplements for a few weeks now, and I'm really impressed with the results. I no longer feel sluggish or run down in the afternoons, and I'm able to maintain my energy levels throughout the day. Additionally, I appreciate that these pills are made with natural ingredients, which is important to me.
Overall, I would definitely recommend these supplements to anyone looking for a natural and effective way to boost their energy levels.

Discover the power of ALLBE making wellness impacts on our valued customers.
I've been using ALLBE BioCan capsules for a few weeks now, and I'm really impressed with the results. My cough has significantly improved, and I feel so much better.
I was skeptical about trying a natural supplement for my cough, but I'm so glad I did. ALLBE BioCan capsules really work and have improved my overall health. I highly recommend them!
AllBE BioCan capsules exceeded my expectations for a natural remedy. My cough has improved significantly, making it a perfect solution for improving one's health.
I was skeptical about using supplements, but I decided to give ALLBE JointCare a try for my joint pain. I'm so glad I did because it's made a noticeable difference in my mobility and comfort.
Our natural cough-relief capsules work quickly to ease symptoms and provide long-lasting relief
Frequently asked questions
Can I take these capsules if I am diabetic?
expand_less
expand_more
Yes, you can take ALLBE BioCan Capsules as they may support blood sugar level related mechanisms and insulin sensitivity.
How many capsules are included in one bottle of ALLBE BioCan capsules?
expand_less
expand_more
Each bottle of ALLBE BioCan Capsules includes 90 capsules, providing a 45-day supply.
Can ALLBE BioCan capsules be taken with other medications?
expand_less
expand_more
We recommend that you consult with your healthcare provider before taking any new supplements, especially if you are currently taking any medications.
What is the recommended dosage for ALLBE BioCan capsules?
expand_less
expand_more
The recommended dosage for ALLBE BioCan Capsules is one capsule per day, taken with food.
Are there any side effects associated with taking ALLBE BioCan capsules?
expand_less
expand_more
While ALLBE BioCan Capsules are generally considered safe, some people may experience mild side effects such as stomach upset, diarrhea, or constipation.
Are ALLBE BioCan capsules vegan-friendly?
expand_less
expand_more
Yes, ALLBE BioCan Capsules are vegan-friendly and do not contain any animal-derived ingredients.
Enjoy peaceful nights
with BioCan
Put an end to sleepless nights and constant coughing. Our proven formula offers lasting relief for a better tomorrow.
Highly recommended
BioCan's cough relief supplement, infused with Cinnamon Extract, provided much-needed comfort for my irritated throat and a troublesome cough. The warmth and soothing effect are simply amazing
Glucose support pills
Cinnamon, Elderberry, and Thyme Extract to support glucose function. I was taking cinnamon for a while but got out of the habit. It did help with blood sugar readings when I was doing it, and this supplement with cinnamon and elderberry should be able to do the same.
Great list of ingredients
Great list of ingredients! Easy to swallow capsules! No funky smell or odor! Easy on my stomach, able to take on an empty stomach! Well, within the expiration date! Great supplement with so many great benefits! Highly recommend!
100% satisfaction
BioCan's cough relief supplement has been a true blessing for me, especially considering its unexpected bonus of helping with sugar control. As someone with a persistent cough and concerns about my sugar levels, I was thrilled to discover that the cinnamon extract in this supplement not only eased my cough but also aided in regulating my blood sugar. It's like the perfect combination for my health needs
Relieved
"Finally found the perfect natural remedy for my nagging cough! BioCan's herbal blend is like a soothing embrace for my irritated throat. Feeling relieved and grateful! 🌿