A naturally formulated supplement that maintains healthy joint function, mobility, and normal cartilage formation.
✔ Improves joint flexibility
✔ Connective tissue support
✔ Treats joint stiffness
✔ Facilitates joint repair and regeneration
✔ Lubricates and cushions joints
Regular price
$45.99 CAD
Sale price
$29.99 CAD
Unit price
per
Sale
Sold out
View full details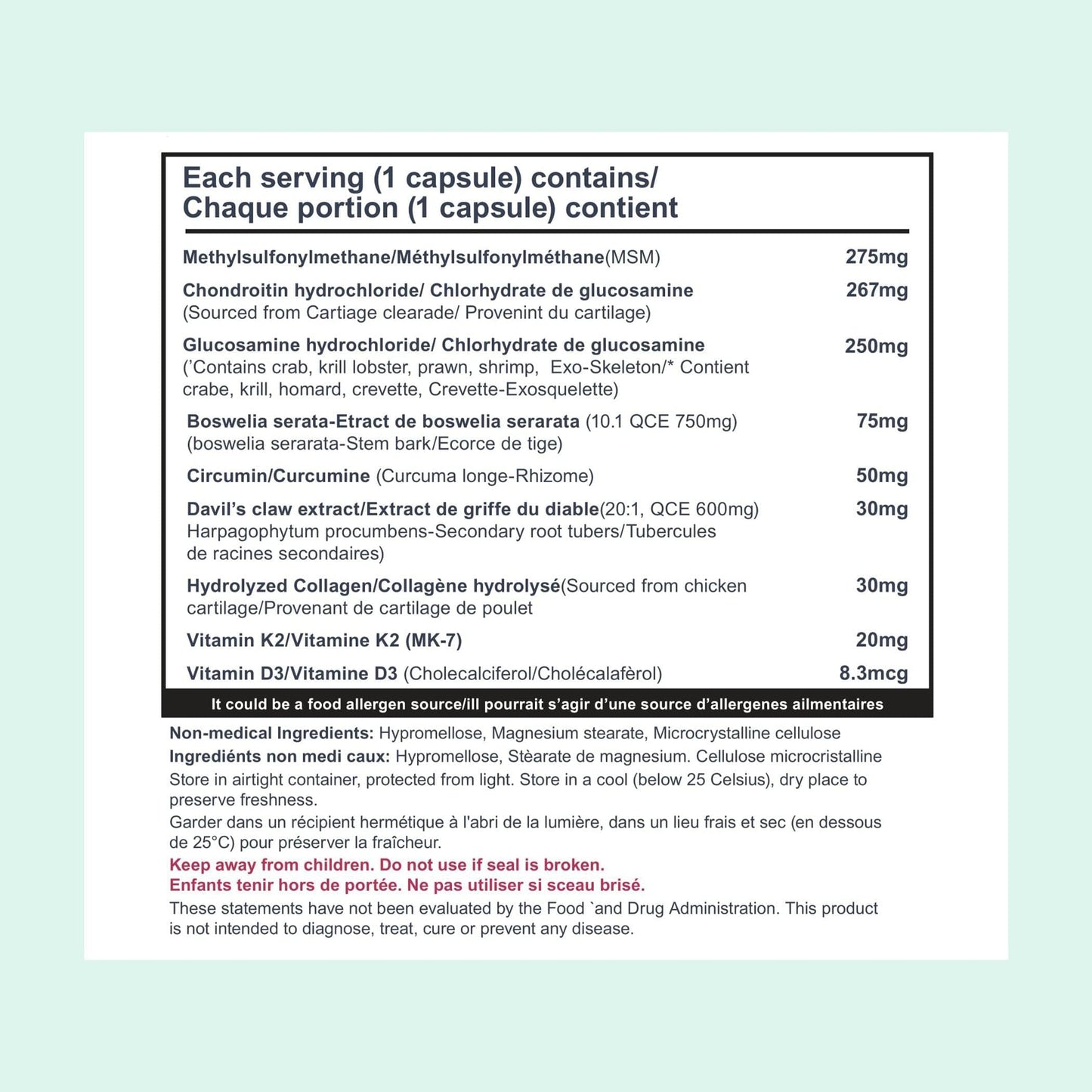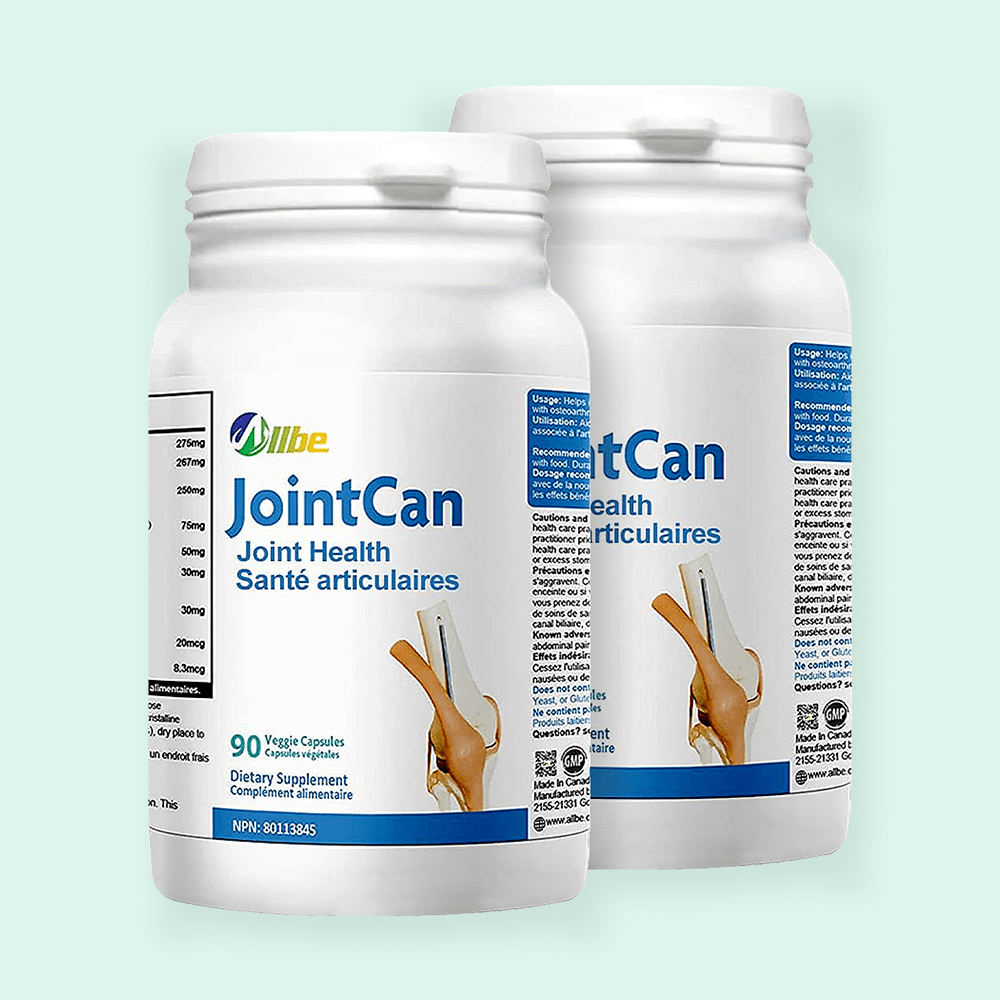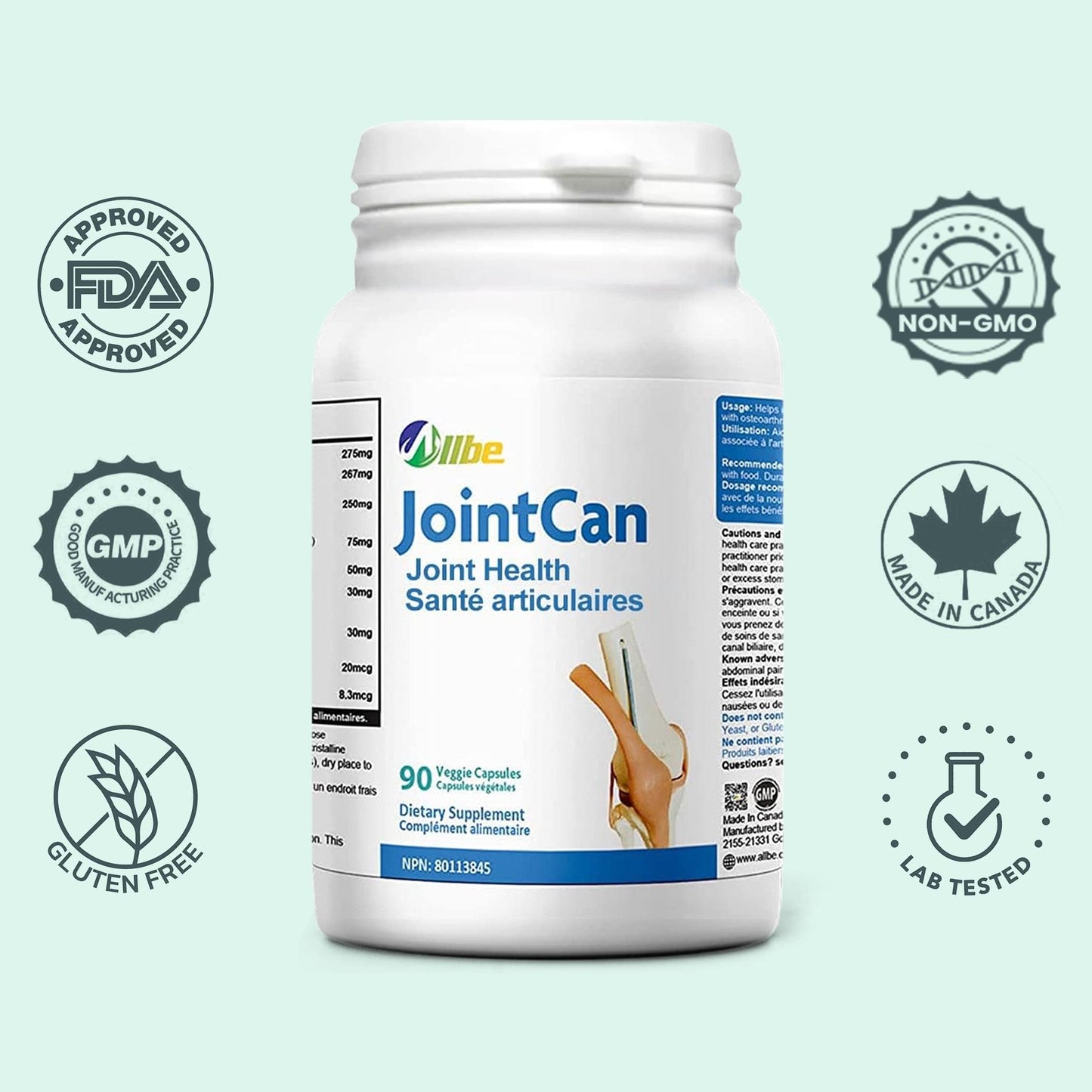 Description
expand_less
expand_more
This powerful supplement combines the benefits of key ingredients such as chondroitin, glucosamine, vitamin D3, and curcumin to provide a synergistic effect that supports your joint health.
With JointCan Supplement, you can experience reduced joint pain, improved joint flexibility, enhanced mobility, and overall support for your joint well-being. It entails chondroitin, which maintains the structural integrity of joints by promoting the synthesis of joint tissue components. Vitamin D3 and curcumin further aid in absorbing calcium and phosphorus, essential for maintaining optimal bone density and joint strength.
Glucosamine, another essential ingredient, supports joint health by stimulating cartilage production and lubricating the joints. It helps alleviate joint discomfort and promotes a better joint range of motion, allowing you to move more efficiently and comfortably.
Don't wait another day to give your joints the support they deserve. Choose JointCan Supplement and take a step towards better joint health.
Benefits
expand_less
expand_more
Joint Can 90 helps you in the following.
Enhances joint strength
Joint supplements that support cartilage health and provide essential nutrients like vitamin D3 can contribute to improved joint strength. Stronger joints can better withstand stress and maintain stability during physical activities.
Treats joint pain
Joint supplements can help reduce joint pain by targeting underlying factors such as inflammation, cartilage degradation, and joint wear and tear.Reduces joint stiffness
Reduces joint stiffness
Joint supplements with anti-inflammatory properties can help reduce joint stiffness, making initiating movement and maintaining flexibility easier. This can improve comfort and mobility, especially after inactivity or waking up in the morning.
Facilitates joint lubrication
Some joint supplements contain ingredients like hyaluronic acid or omega-3 fatty acids, which help promote joint lubrication. Improved lubrication between joint surfaces reduces friction, allowing for smoother joint movement and minimizing discomfort.
Connective Tissue support
Joint supplements can support other connective tissues, including tendons and ligaments. This can help maintain their integrity, flexibility, and resilience.
Improves Bone health
Some joint supplements, such as those containing vitamin D3, contribute to overall bone health—vitamin D3 aids in calcium absorption, supporting bone density and strength.
Benefits
expand_less
expand_more
Ingredients
expand_less
expand_more
Main ingredients:
• Chondroitin
• Curcumin
• Vitamin D3
• Vitamin K2
• Methylsulfonyle methane
• Hydrolyzed Collagen
• Boswellia serrata extract
• Devil's Claw extract
Other Ingredients
• Hypromellose
• Magnesium stearate
• Microcrystalline cellulose
Recommended Intake
expand_less
expand_more
2 capsules at a time are recommended safe. You can have it twice or thrice daily in case of severe joint weakness or stiffness.
We take pride in delivering quality service that earns our customers' trust
Mobility made easy with our joint support
Discover the Jointcan difference
"Let me share my incredible experience with JointCan. Dealing with joint pain used to hold me back, but since I started taking JointCan capsules, my life has changed. The natural ingredients, such as Glucosamine, Chondroitin, and MSM, have provided me with fast and effective relief. Not only is it a Canadian product, supporting local businesses, but it's also affordable and convenient for my on-the-go lifestyle. JointCan has given me back my confidence, eliminating worries about surgery or medical interventions. It's become an essential part of my daily routine, and I highly recommend it to anyone seeking a life free from joint discomfort."
Revealing the secret ingredients of our joint supplement
JointCan capsules pack of 2
Support your joint health with 2 bottles of JointCan capsules. Maintain joint flexibility and promote comfortable movement.
JointCan capsules pack of 3
Embrace freedom of movement with 3 bottles of JointCan capsules. Nurture your joints, reduce discomfort, and enjoy an active lifestyle.
I've been taking these supplements for a few weeks now, and I'm really impressed with the results. I no longer feel sluggish or run down in the afternoons, and I'm able to maintain my energy levels throughout the day. Additionally, I appreciate that these pills are made with natural ingredients, which is important to me.
Overall, I would definitely recommend these supplements to anyone looking for a natural and effective way to boost their energy levels.

Discover the power of ALLBE, supplement for joints, making wellness impacts on our valued customers.
Before using JointCan, I struggled to move around due to chronic joint discomfort. After just a few weeks of use, I noticed a significant improvement in my mobility and flexibility.
I can finally keep up with my grandkids. Joint pain was preventing me from keeping up with my active grandkids. Thanks to JointCan, best joint spplement, I can now join in on all the fun.
Joint inlfammation and stiffness was a daily struggle for me, but after incorporating JointCan into my routine, I've noticed a significant decrease in stiffness and an increase in mobility.
Enhanced active lifestyle
Before trying JointCan, my hip joint pain made it difficult to stay active. But after using it for a few weeks, I've noticed a remarkable improvement in my mobility and flexibility. Highly recommend!
Our natural joint support supplement can help you enjoy a more active lifestyle without the limitations of joint pain and discomfort
Frequently asked questions
How do I take ALLBE
JointCan?
expand_less
expand_more
The recommended serving size is 2 capsules, taken 3 times per day with meals.
Can I take ALLBE JointCan if I have allergies?
expand_less
expand_more
If you have allergies, it is important to consult with your doctor before taking any dietary supplement.
How long does it take to see results from ALLBE JointCan?
expand_less
expand_more
Results may vary for each person, but many users report noticing an improvement in joint comfort and flexibility within a few weeks of consistent use.
Is ALLBE JointCan safe to take with other medications?
expand_less
expand_more
If you are taking any medications, it is recommended that you consult with your doctor before taking any dietary supplement, including ALLBE JointCan.
How is ALLBE JointCan made?
expand_less
expand_more
ALLBE JointCan is made in an FDA-registered facility that adheres to GMP guidelines. The ingredients are blended to create a concentrated formula and stored in an airtight container to protect the potency of the ingredients.
Say goodbye to knees stiffness
Stop letting stiff joints hold you back. Our best joint supplement for knees is the natural solution you need to take back control of your life.
Relieves joint pain with consistency
As someone who suffers from arthritis due to a past injury, I can attest to the effectiveness of JointCan in minimizing pain when I experience aches in my joint. The combination of glucosamine, chondroitin, and MSM has helped to reduce inflammation and improve flexibility in my joint, making it easier to perform daily activities without discomfort.
It's important to note that while JointCan can effectively reduce joint pain and improve bone health, it's crucial to be consistent with dosing to see the best results. Taking the supplement as directed on the label can help ensure that your body gets the right amount of glucosamine, chondroitin, and MSM to support joint and bone health over time. Inconsistent or irregular dosing may not provide the full benefits of the supplement, so it's essential to make it a regular part of your daily routine for maximum effectiveness.
Unlike other joint supplements that can upset your stomach, this is gentle on your digestive system. Plus, it's easy to swallow.
That being said, they are pretty pricey at the dosage of 2 per day, and I'm not sure this is a realistic supplement if budgeting.
Excellent product
I've been using JointCan for a few weeks now, and I am amazed at the difference it has made. My joints feel so much better, and the pain has significantly decreased. I can now move freely without any discomfort. This supplement is a game-changer!
Recommended!
I was initially skeptical, but after trying JointCan, I'm a believer. This supplement has done wonders for my joint health. I can't believe how much better I feel. The stiffness and pain have melted away, allowing me to stay active and enjoy life fully.
My life savior
I was struggling with a terrible sore throat and difficulty breathing due to excessive mucus. However, since I started taking BioCan consistently, I have noticed a remarkable improvement in my airways. The discomfort in my throat has subsided, and I can now breathe more easily. The best part is that the supplement has also significantly reduced the mucus buildup, allowing me to enjoy a clearer and healthier respiratory system.
Impressive results.
Thanks to this natural supplement, I never thought I could feel this good. Plus the size of the capsule is also good.