Free Delivery & Return
Market Leading Guarantees
Rated Excellent On Trustpilot
Finest Material & Fairest Price
11 Clinically chosen bacterial strains for enhanced gut health, microbial balance, and reduced bloating
• Improved digestion
• Regulated nutrient absorption
• Relieves antibiotic-induced diarrhea
• Boosts immunity
• Coordinated gut-brain

Regular price
$49.99 CAD
Sale price
$29.99 CAD
Unit price
per
Sale
Sold out
View full details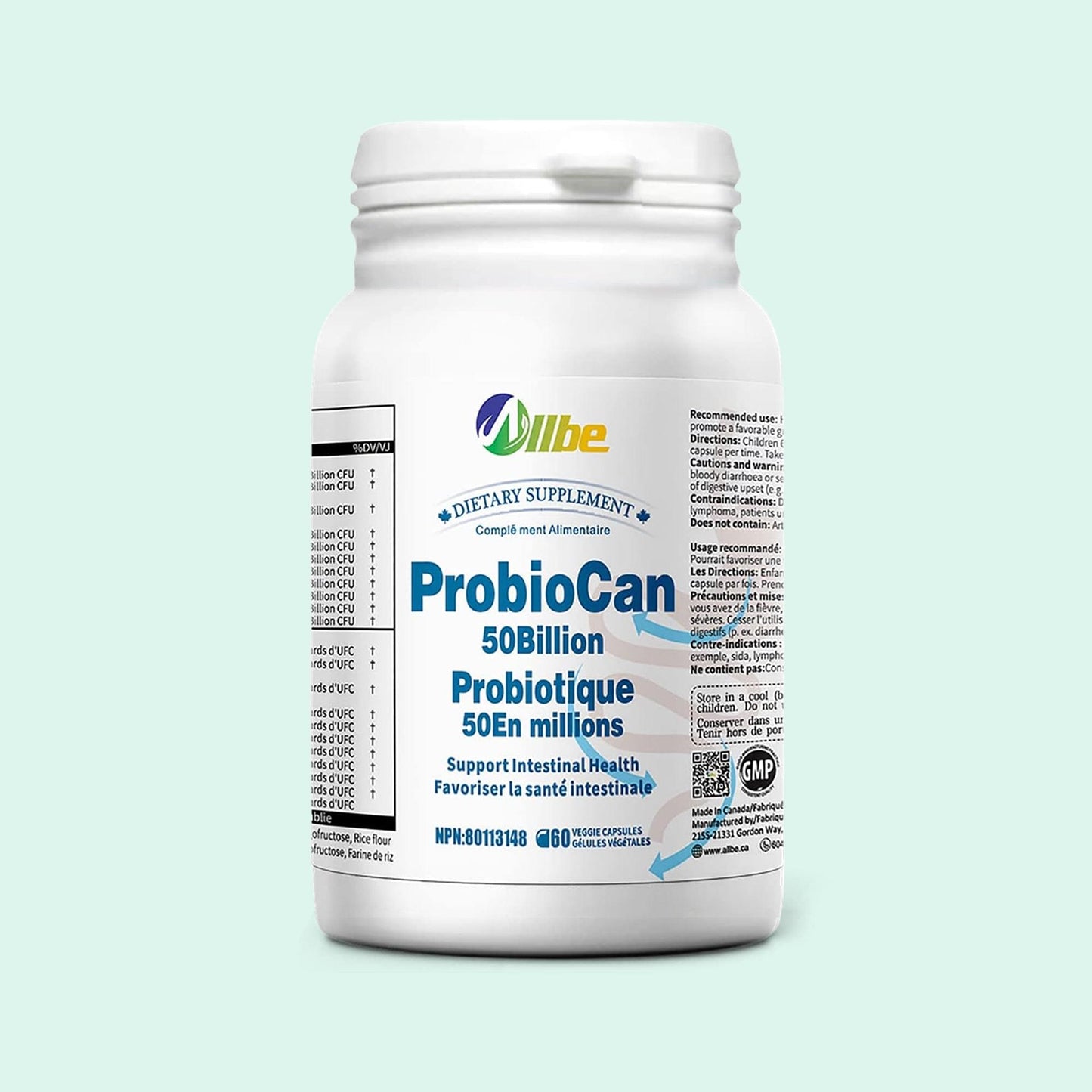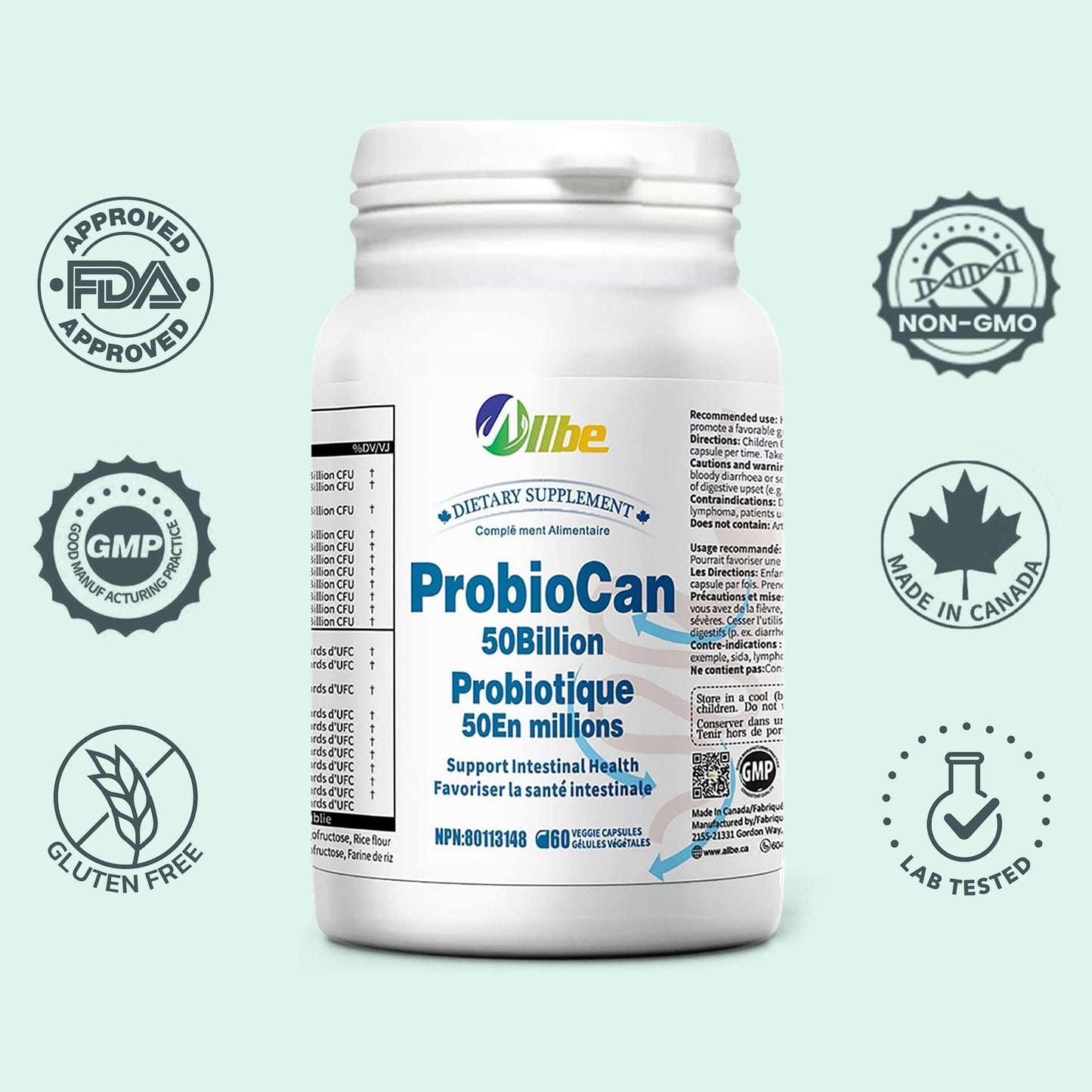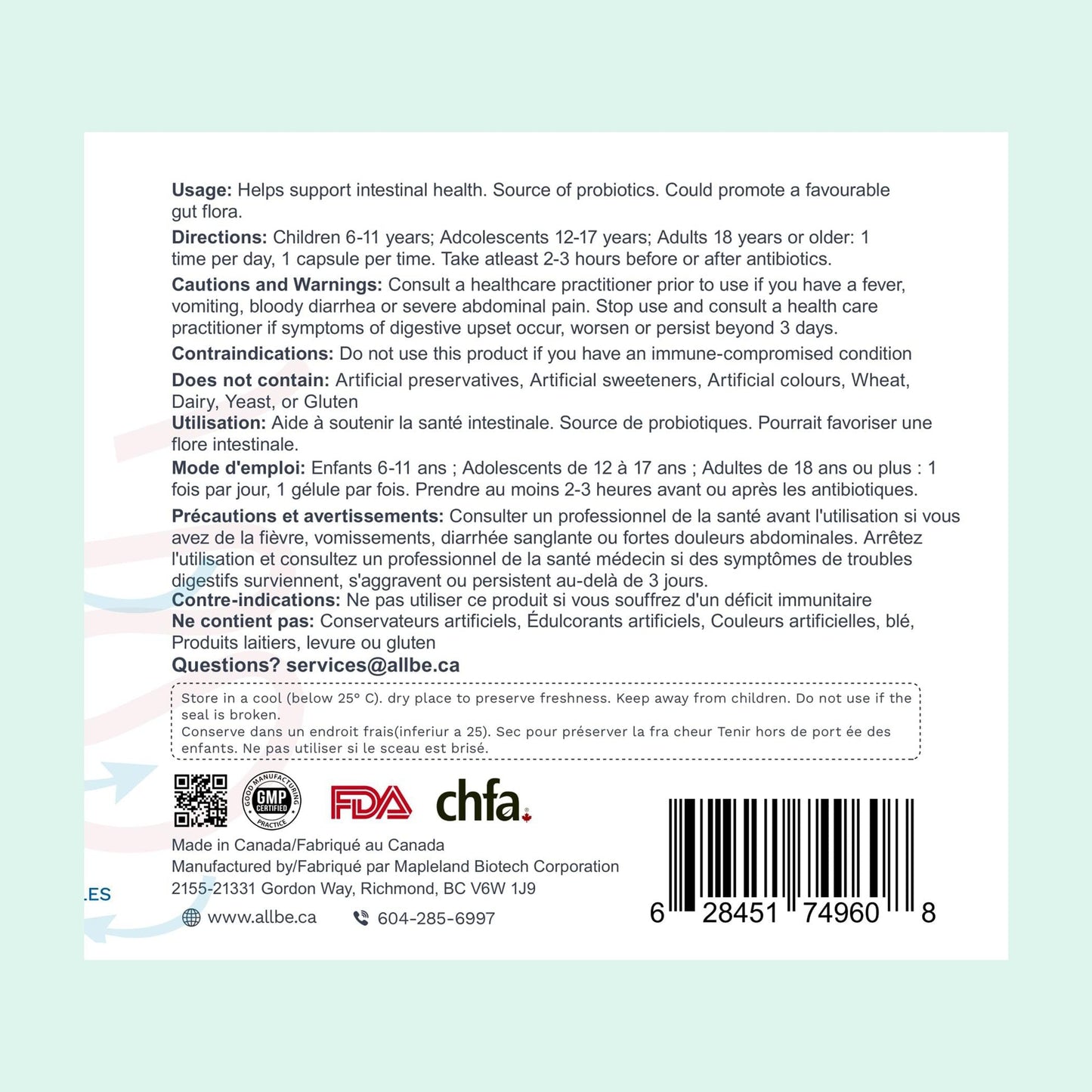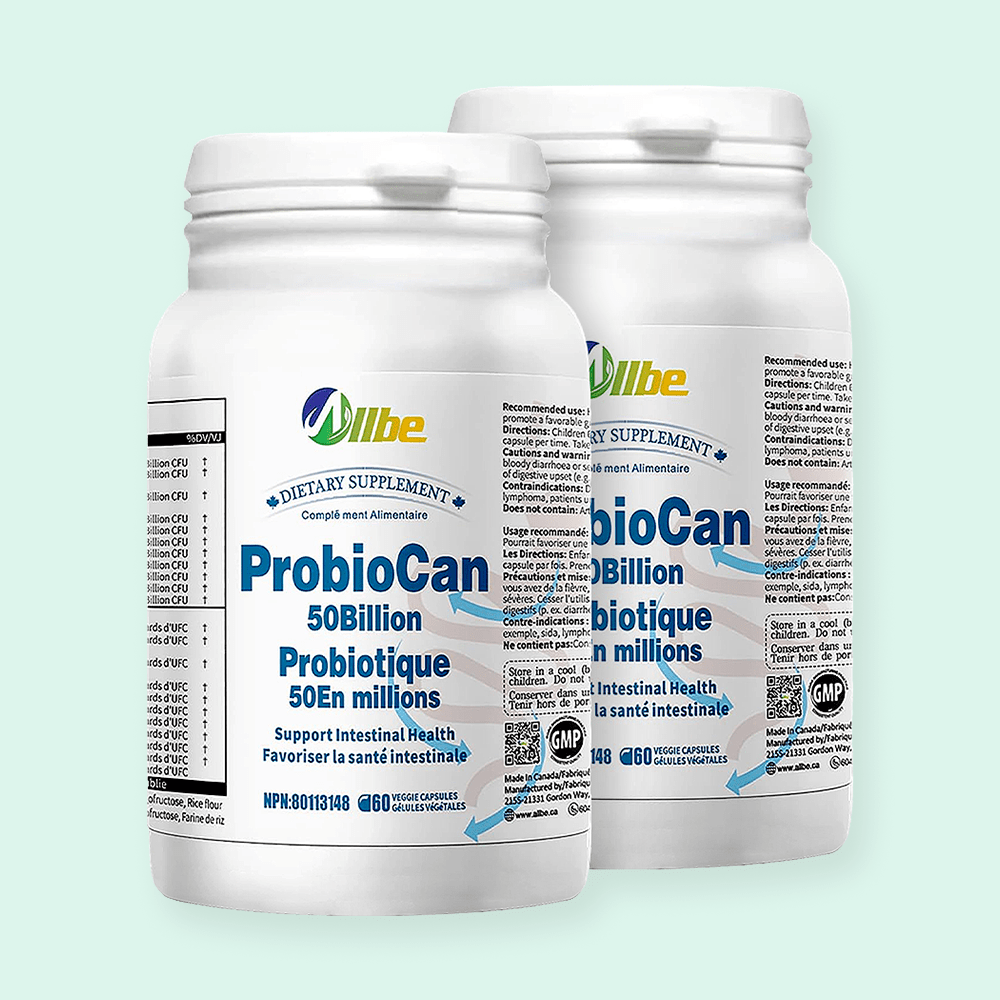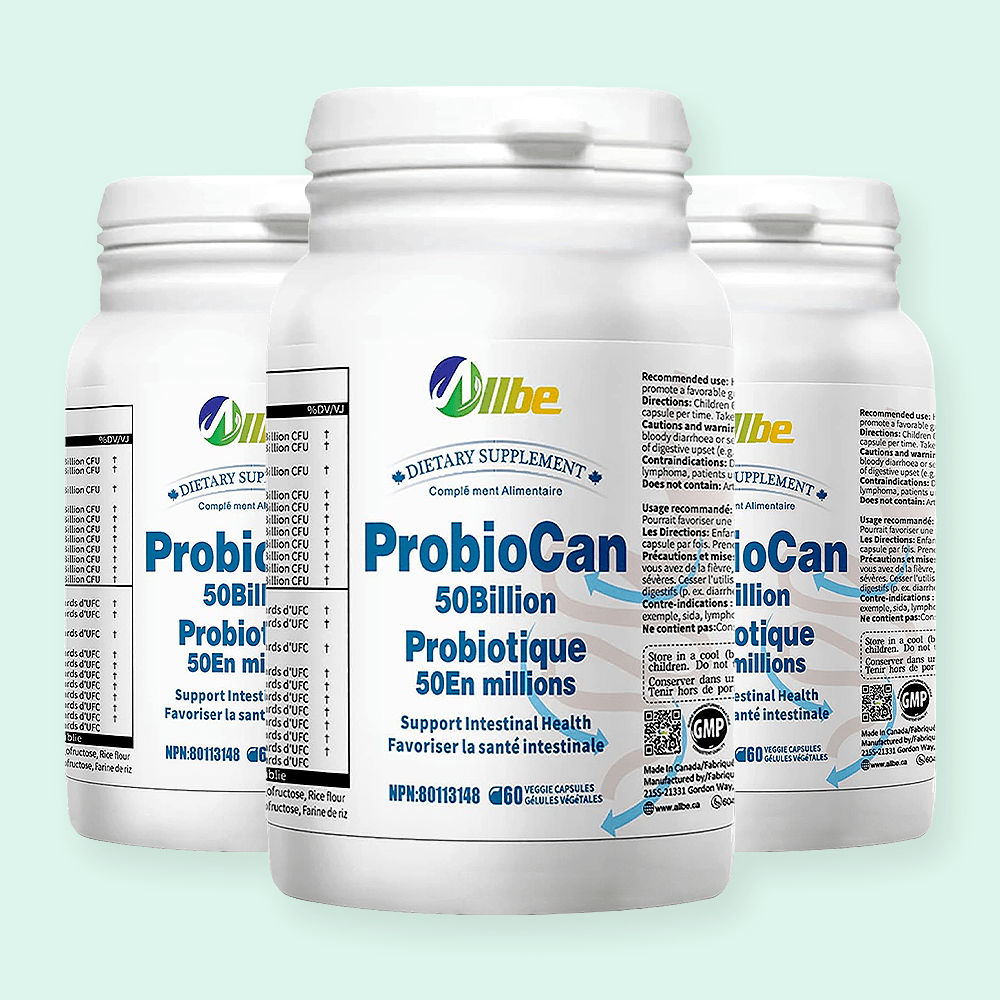 Description
expand_less
expand_more
ProbioCan is a clinically proven recipe for enhanced gut health and balance. This probiotic formula is made with 50 billion CFU of 11 live and potent strains, synergistically ensuring optimal gut flora by nourishing the gut microbiota with essential nutrients.
Our unique formula is designed to restore harmony and vitality to your gut, leaving you feeling amazing. With this gut boost, you'll experience improved digestion, bidding farewell to discomfort and bloating.
But that's not all – Probiocan 50 billion is here to support your immune system too! Nurturing the good bacteria in your gut helps strengthen your body's defenses, keeping you healthier and more resilient.
We believe in quality above all else. That's why GutBoost is made with the finest ingredients, and each batch undergoes strict testing to ensure purity and effectiveness. You can trust that you're getting a premium probiotic supplement.
Prioritize your gut health and unlock a happier, healthier you with ProBioCan 50 B. Take the first step toward improved digestion, enhanced immune function, and overall well-being.
Benefits
expand_less
expand_more
ProbioCan 50 B helps you in the following.
Enhanced gut health
Probiotics promote a healthy gut environment by increasing the population of beneficial bacteria, which can help maintain the integrity of the gut lining, support nutrient absorption, and contribute to a balanced microbiome.
Better digestion
Probiotics supplements can help promote healthy digestion by aiding in the breakdown and absorption of nutrients.
Maintenance of urinogenital health
Probiotics can contribute to maintaining a healthy balance of bacteria in the urogenital tract, potentially reducing the risk of urinary tract infections (UTIs), yeast infections, and bacterial vaginosis.
Alleviated Irritable Bowel Syndrome
Probiotic supplementation may help alleviate symptoms such as abdominal pain, bloating, and irregular bowel movements for individuals with IBS.
Improved Mood and Mental Health
The gut and brain are connected through the gut-brain axis. Probiotics can potentially influence brain function and may help support a positive mood, reduce symptoms of anxiety and depression, and improve overall mental well-being.
Reduced Antibiotic-Associated Diarrhea
Antibiotics can disrupt the natural balance of gut bacteria, leading to diarrhea. Probiotics can help restore this balance, potentially reducing the risk and severity of antibiotic-associated diarrhea.
Benefits
expand_less
expand_more
Ingredients
expand_less
expand_more
Bacteria Strains
• Bifidobacterium bifidum
• Bifidobacterium longum
• Bifidobacterium animalis
• Lactobacillus acidophilus
• Lactobacillus gasseri
• Lactobacillus helveticus
• Lactobacillus paracasei
• Lactobacillus plantarum
• Lactobacillus rhamnosus
• Lactobacillus salivarius
• Pediococcus acidilactic
Other Ingredients
• Oligofructose
• Hypromellose
• Microcrystalline cellulose
• Rice flour
• Magnesium strain
Recommended Intake
expand_less
expand_more
Healthcare experts recommend taking 1 capsule daily, 2-3 hours before or after antibiotics, as they will interfere with each other's action if taken together simultaneously.
Join the community of customers who rely on us for top-quality service
Rediscover optimal gut health
Gut health benefits you can count on
Powerful ingredients fueling ALLBE ProbioCan 50 Billion CFU
Lactobacillus acidophilus
ProbioCan 50 Billion capsules pack of 2
Double the Gut Health: Allbe ProbioCan 50 Billion CFU Pack of 2 - Rebalance Your Gut and Boost Your Well-being!
ProbioCan 50 Billion capsules Pack of 3
Triple the Probiotic Power: Allbe ProbioCan 50 Billion CFU Pack of 3 - Fortify Your Gut Health and Enhance Your Immunity!
I've been taking these supplements for a few weeks now, and I'm really impressed with the results. I no longer feel sluggish or run down in the afternoons, and I'm able to maintain my energy levels throughout the day. Additionally, I appreciate that these pills are made with natural ingredients, which is important to me.
Overall, I would definitely recommend these supplements to anyone looking for a natural and effective way to boost their energy levels.

Discover the power of ALLBE probiotic supplement making wellness impacts on our valued customers.
Allbe Priobiotic Supplement 50 billion has been a game-changer. After just a few weeks, my bloating and discomfort vanished, leaving me feeling energized and lighter. Plus, this best supplement for gut health is vegan-friendly.
ALLBE ProbioCan has improved my running performance and overall health. It boosts my gut health, reduces the risk of sickness, and speeds up recovery after long runs. I can safely say its the best probiotic for gut health.
I'm simply amazed by ALLBE probiotic 50 billion! It transformed my digestion and gut health within days. No more uncomfortable bloating or IBS. I highly recommend this gut health supplement to anyone struggling with gut issues.
I was skeptical about trying ALLBE ProbioCan at first, but after a few weeks, I noticed a significant improvement in my gut health. My digestion is much smoother, and I no longer experience bloating or discomfort.
Boost your gut health with ProbioCan
Experience the power of 60 billion CFUs of probiotics with ProbioCan capsules. Take a
step towards better digestive health and overall well-being.
Frequently asked questions
How many CFUs should I look for in a probiotic supplement?
expand_less
expand_more
The number of CFUs (colony-forming units) in a probiotic supplement can vary, but generally, a supplement with at least 10 billion CFUs per serving is considered effective.
What is the shelf life of ALLBE ProbioCan?
expand_less
expand_more
ALLBE ProbioCan has a shelf life of two years when stored in a cool, dry place.
Are ALLBE ProbioCan capsules vegan-friendly?
expand_less
expand_more
Yes, ALLBE ProbioCan capsules are made from plant-based materials and are vegan-friendly.
Can ALLBE ProbioCan be taken with other medications?
expand_less
expand_more
It's always best to consult with your healthcare provider before taking any new supplements, especially if you're taking other medications or have a pre-existing condition.
How long should I take ALLBE ProbioCan?
expand_less
expand_more
ALLBE ProbioCan can be taken as a daily supplement for as long as needed to maintain gut health and support overall wellness.
What is the refund policy for ALLBE ProbioCan?
expand_less
expand_more
ALLBE ProbioCan comes with an effective refund policy for customer satisfaction. If you're not completely satisfied with your purchase, simply contact the company for a refund.
Improve your digestion and strengthen your immune system with our probiotic supplement.
So far, so good
I am getting the expected results
This is my third week using this product
Just a probiotic, nothing special
I googled probiotic for menopause, and this is what came up, but it certainly is not a probiotic for menopause because it's just a probiotic it doesn't have anything particular in it. But now disappointed, it is improving other health issues like poor gut performance.
Contains Lactobacillus Gasseri
Recommended by a nutritionist for weight loss.
Great way to maintain your gut health!
I've been quite happy with this probiotic. I've been using these for a while now to help with my IBS, which has worked well for me. Everyone will be different, and the evidence is mixed on how helpful probiotics can be, but from my own experience, I've been quite happy with this. This contains a good number of CFU in it with a good mix of probiotics as well. I like that these are shelf stable, which makes storing them even more straightforward. I've found these have been great to help keep up my gut health, I've been very regular and feeling good. Considering the number of CFUs per pill, this is a well-priced option. I 100% would recommend it!
Clean ingredients, a wide variety of probiotics
This is the first time I've tried an Allbe supplement, and I am impressed thus far with this probiotic. I haven't had these for over a month, which is usually how long I find for a probiotic to start working and altering my gut microbiome to change how I feel. However, I can speak on my experience with them thus far. I rotate through probiotics trying different ones all the time to diversify my gut, and ill usually know within the first week if the probiotic is for me or not, and these ones seemed to be okay.
The caps are relatively small, and I'm not a pill person in the slightest, I also noticed they were pretty tasteless.
50 billion CFU at the time of packaging is an excellent dose, I also keep them in the fridge (it doesn't recommend to, I just do).
It has an active NPN, and I'm happy with the ingredients and the different quality strains of probiotics.
$39 for 50 billion probiotics daily for 2 months is an excellent deal all day.