Boosts your heart's potential with all-in-one cardiac health formula for Arterial elasticity,  strengthened heart muscles, and Oxygenation support.
✔ Prevents Blood clotting
✔ Regulates hypertension
✔ Cholesterol management
✔ Improves heartbeat
✔ Prevents stroke
Regular price
$69.99 CAD
Sale price
$39.00 CAD
Unit price
per
Sale
Sold out
View full details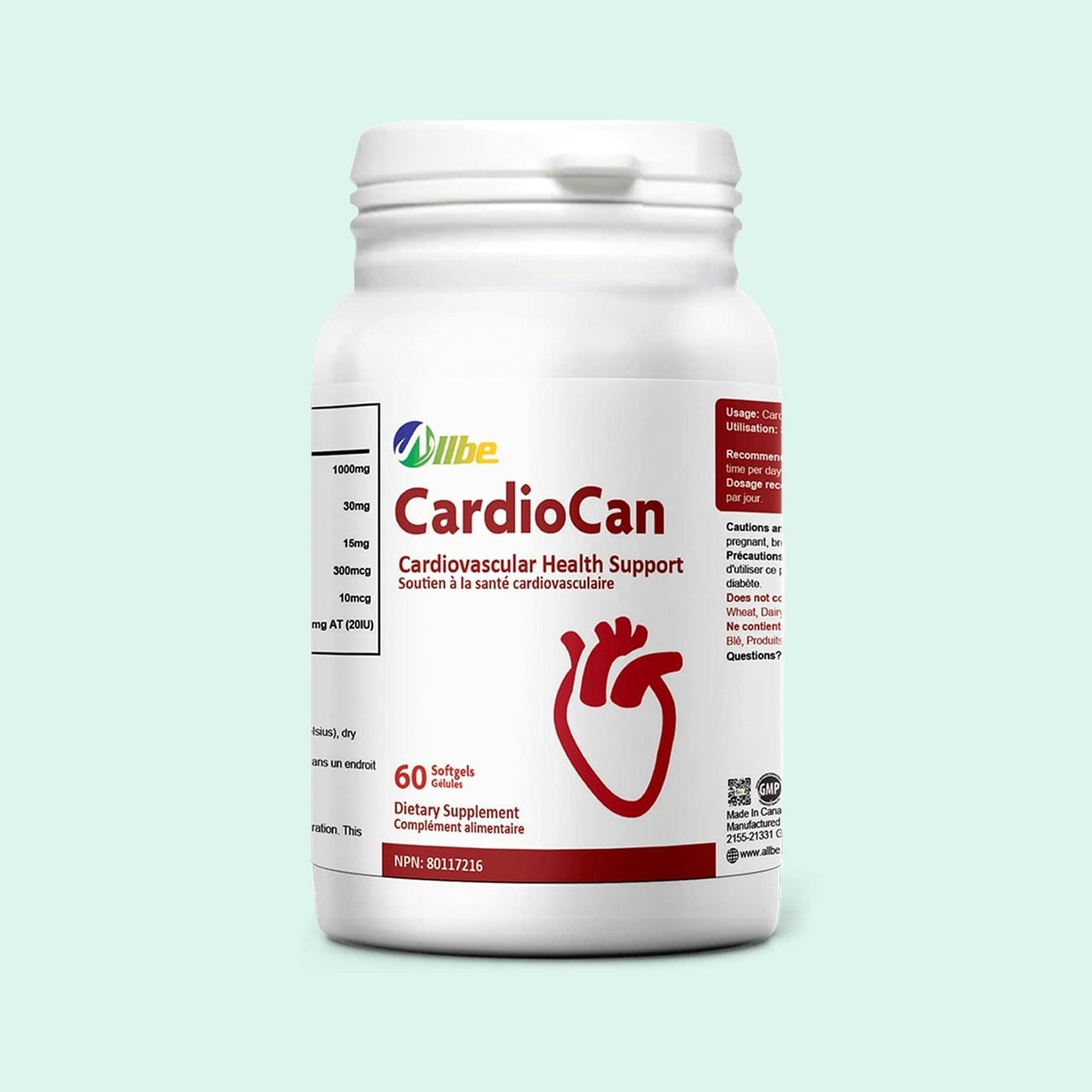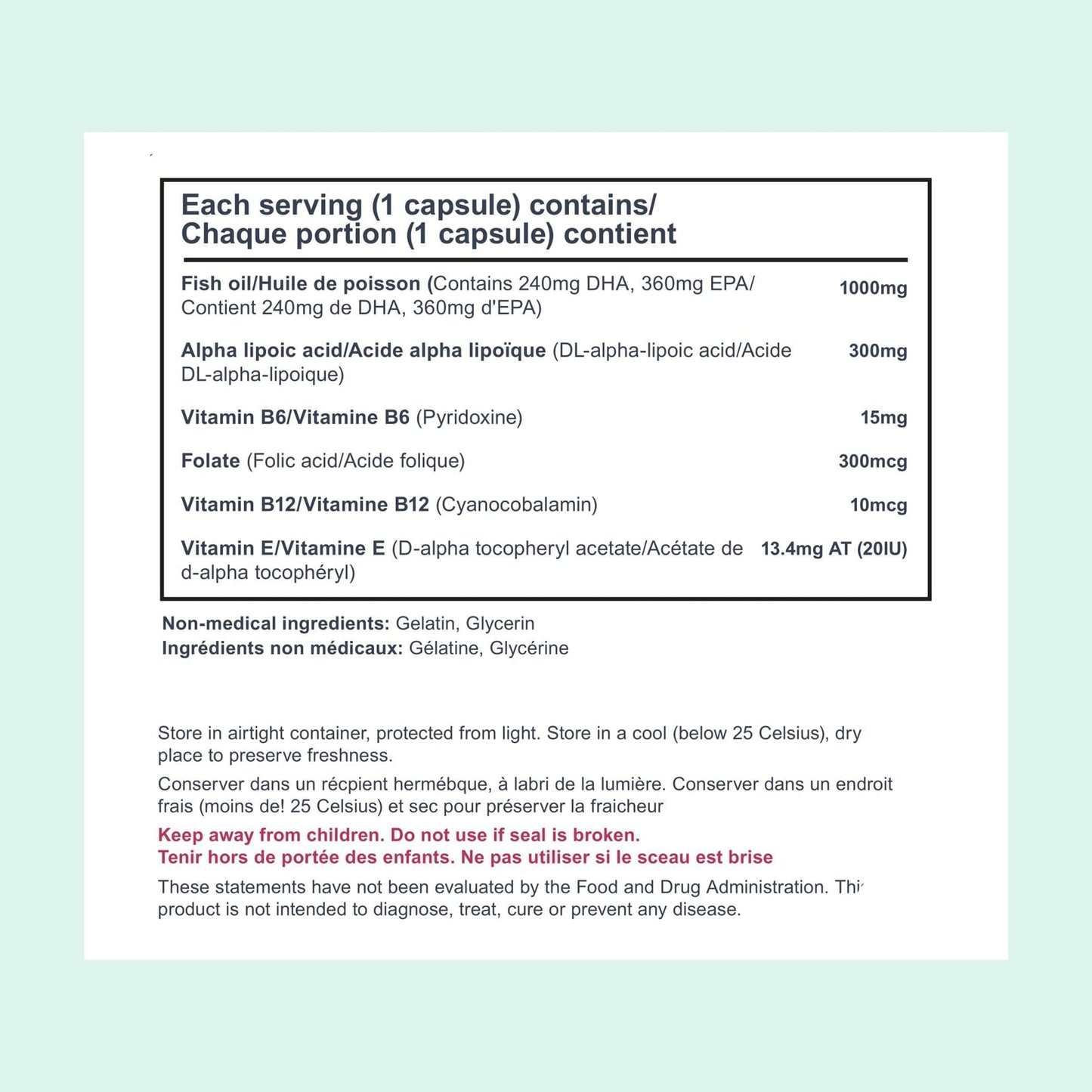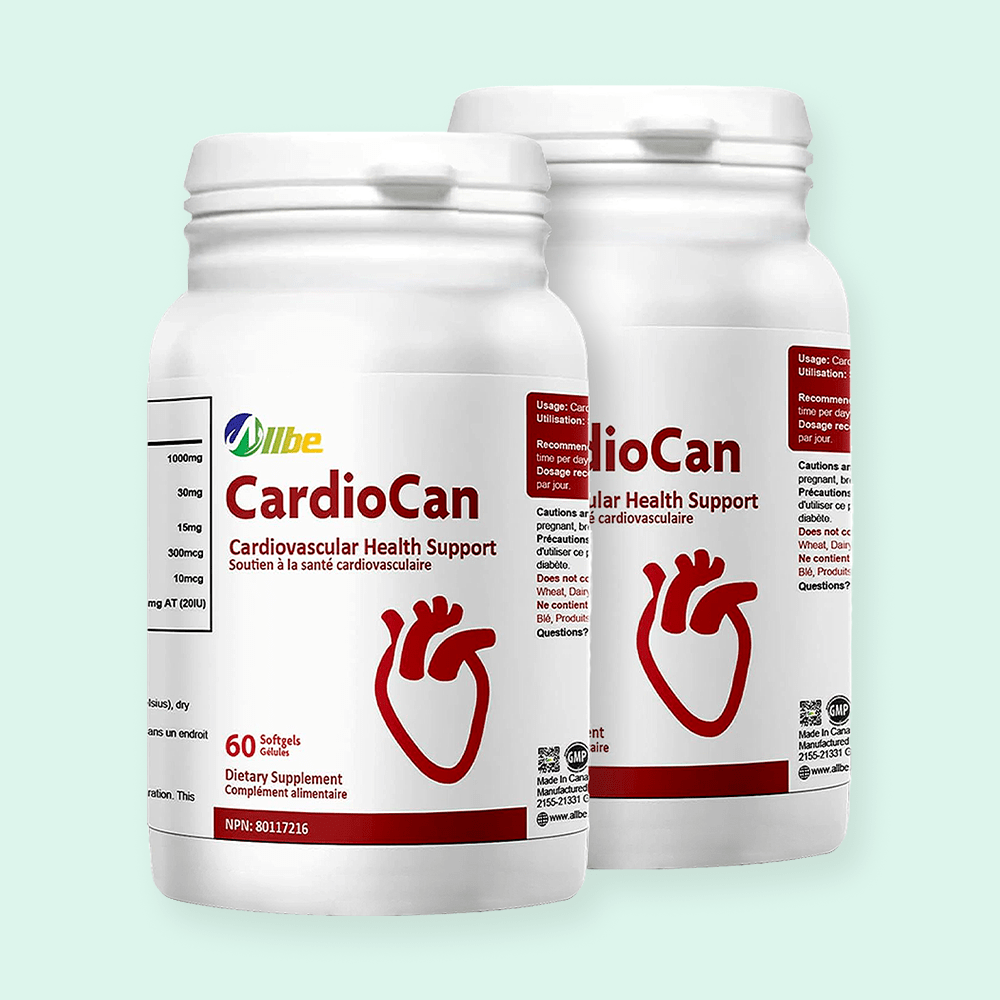 Description
expand_less
expand_more
CardioCan is the comprehensive cardiac support your heart needs to function optimally. It is made with lipoic acid, vitamin B12, vitamin B6, and omega-3 fatty acids, which help the heart pump blood throughout the body.
The omega-three fatty acids in fish oil provide both hypotensive and antioxidant functionalities. Vitamin B6, B12, and folate help regulate homocysteine levels, an amino acid that, when elevated, is associated with an increased risk of heart disease.
The folate present in this supplement also facilitates DNA synthesis, which assists in cell division. The enhanced cell division facilitates red blood cell production, which prevents anemic conditions.
Benefits
expand_less
expand_more
CardioCan helps you in the following.
Enhanced Cardiac performance
Omega-3 fatty acids promote the health and function of the heart by providing the necessary anti-oxidant support. Lipoic acid and vitamin B12 increase and regulates the heart rate and pumping.
In addition, cardio can supplement also makes heart muscles strong and increases their stamina which reduces the incidence of heart-related issues.
Improved blood circulation
CardioCan supplements you with EPA and DHA, which help flush the plaque deposited within the arteries, facilitating smooth blood circulation. This improves blood flow and circulation, efficiently ensuring vital nutrients and oxygen reach the heart and other organs.
Regulates high blood pressure
CardioCan supplements assist in regulating high blood pressure, which reduces the incidence of hypertension-induced heart attacks.
Energy Boost
Some cardiac supplements may help increase energy levels and improve endurance, enabling individuals to engage in physical activities and exercise more effectively.
Antioxidant protection
Many cardiac supplements contain antioxidants that help reduce oxidative stress and inflammation, protecting the heart from damage caused by free radicals.
GMP Certified
You can definetily truct our product's quality and safety, as it is manufactured in a GMP-certified facility.
Benefits
expand_less
expand_more
Ingredients
expand_less
expand_more
Plant/animal-based:
• Fish oil
• Alpha lipoic acid
• Vitamin B6
• Folate
• Vitamin B12
• Vitamin E
Non-plant based:
• Gelatin
• Glycerine
Recommended Intake
expand_less
expand_more
1 capsule daily is recommended to be taken with the meals.
Join the growing number of customers who trust us to deliver
Omega-3 capsules for wellness
Powerful ingredients for heart health support
CardioCan capsules pack of 2
Support your cardiovascular health with this pack of 2 Allbe CardioCan capsules. Enhance heart function and promote overall well-being.
CardioCan capsules pack of 3
Take your heart health to new heights with this pack of 3 Allbe CardioCan capsules. Optimize cardiovascular function and improve your quality of life.
I've been taking these supplements for a few weeks now, and I'm really impressed with the results. I no longer feel sluggish or run down in the afternoons, and I'm able to maintain my energy levels throughout the day. Additionally, I appreciate that these pills are made with natural ingredients, which is important to me.
Overall, I would definitely recommend these supplements to anyone looking for a natural and effective way to boost their energy levels.

Discover the power of ALLBE making wellness impacts on our valued customers.
ALLBE CardioCan is a top-notch heart health supplement. It improved my cardiovascular health, boosted my energy, and stopped heart flutters. Highly recommend for natural support.
ALLBE CardioCan has been a game-changer for my heart health. The omega-3 fish oil supplement have made a noticeable difference in my energy levels and cardiovascular well-being.
ALLBE CardioCan is the ultimate supplement for heart health. This DHA supplement with antioxidants and vitamins has significantly improved my cardiovascular well-being. Highly recommended!
I decided to try these omega 3 fish oil capsules since I wasn't feeling comfortable taking my heartbeats. It has been really helpful! I started feeling my heartbeat got better. It's the perfect cadiovascular support.
Embrace heart wellness today!
Take the first step towards a healthier heart with ALLBE CardioCan- the best fish oil supplement in Canada.
Experience the difference today!
Frequently asked questions
Is Cardiocan Safe For Pregnant Or Nursing Women?
expand_less
expand_more
Though it is generally safe, it is always best to consult your healthcare professional to avoid the risk and consequences.
How Long Does Cardiocan Take To Relieve Heart Hearts?
expand_less
expand_more
There is no fixed timeline. However, if you take the supplements regularly and ensure due care, you can notice the effects soon.
Are there any undesired effects while taking Cardiocan?
expand_less
expand_more
There are no side effects for the CardioCan supplement if you take it in moderation. In case of exploitation, you might get an overdose, which could harm your health.
Are The CardioCan supplements Vegetarian Friendly?
expand_less
expand_more
It is clinically tested to be vegan-friendly with no added preservatives or artificial colors.
Boost you living with essential vitamins for heart health.
Supplement to help blood sugar
The supplement's ingredients are implicated as helpful with blood sugar. It is easy to consume and helps. It contains white kidney bean extract, cinnamon, alpha lipoic acid, soybean flour, magnesium, and chromium, which I already take.
Lifesaver for me!
Dealing with heart issues has been a constant battle, but CardioCan has truly been a lifesaver. Not only does it support a healthier heart, but it has also helped boost my energy levels. I feel more confident and motivated to tackle each day with vigor. Highly recommended!
Boosted cardiac performance
As someone who has struggled with high blood pressure, this supplement has been a game-changer. It has helped me maintain healthy blood pressure levels and reduced the uncomfortable symptoms often accompanying it. Plus, the peace of mind it provides is priceless. I no longer have to worry about my heart's well-being constantly.I would buy more products too from Allbe
Amazed!
I was skeptical when I first heard about CardioCan, but I'm so glad I tried it. It has worked wonders.
What a product
Since taking it, I've noticed significantly improved cholesterol levels and blood circulation. I feel physically better, and my mind is at ease—my ultimate heart acer.