Experience a peaceful sleep and say goodbye to the restless night with melatonin-inducing SleepCan supplements. It's time to wake up fresh and energized!
✔ Improves Sleep-Wake Cycle
✔ Enhances mood
✔ Regulates melatonin levels
✔ Gives better cognitive clarity
✔ Relives anxiety and depression
✔ Regulates sleep patterns
Regular price
$29.99 CAD
Sale price
$24.99 CAD
Unit price
per
Sale
Sold out
View full details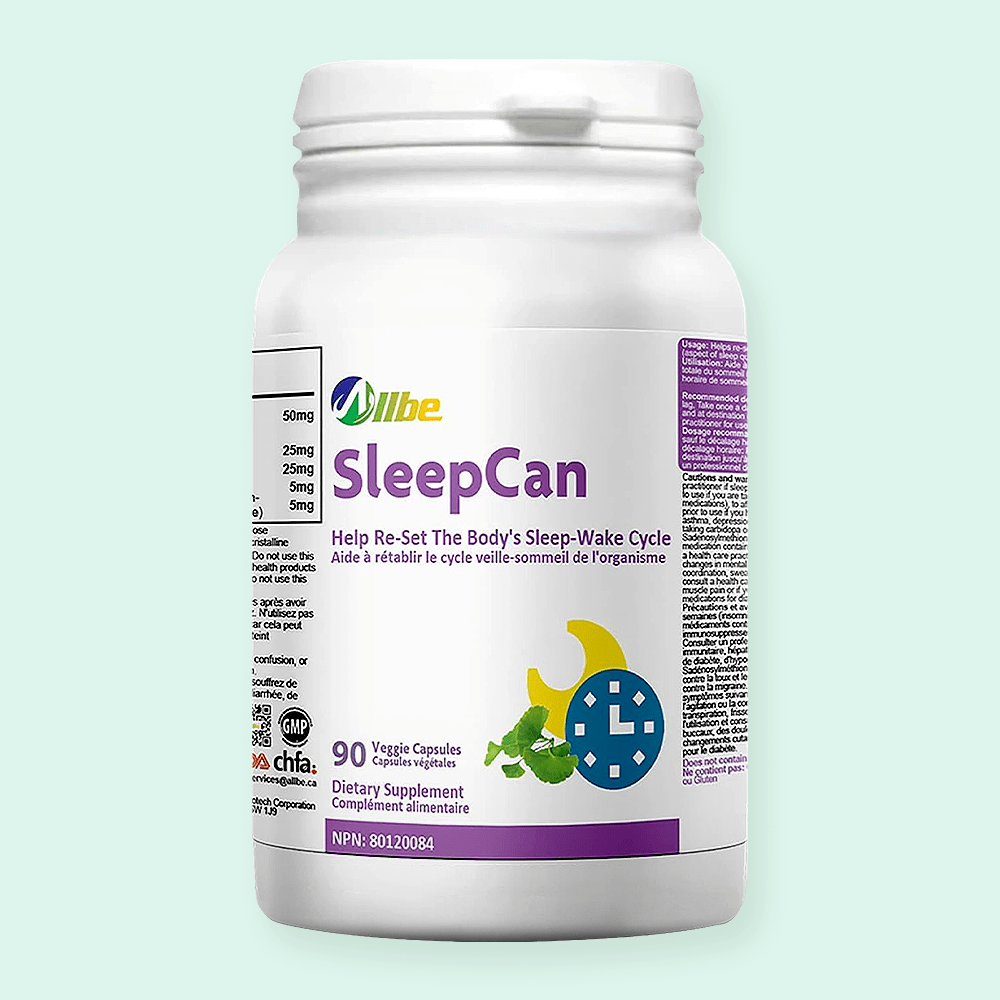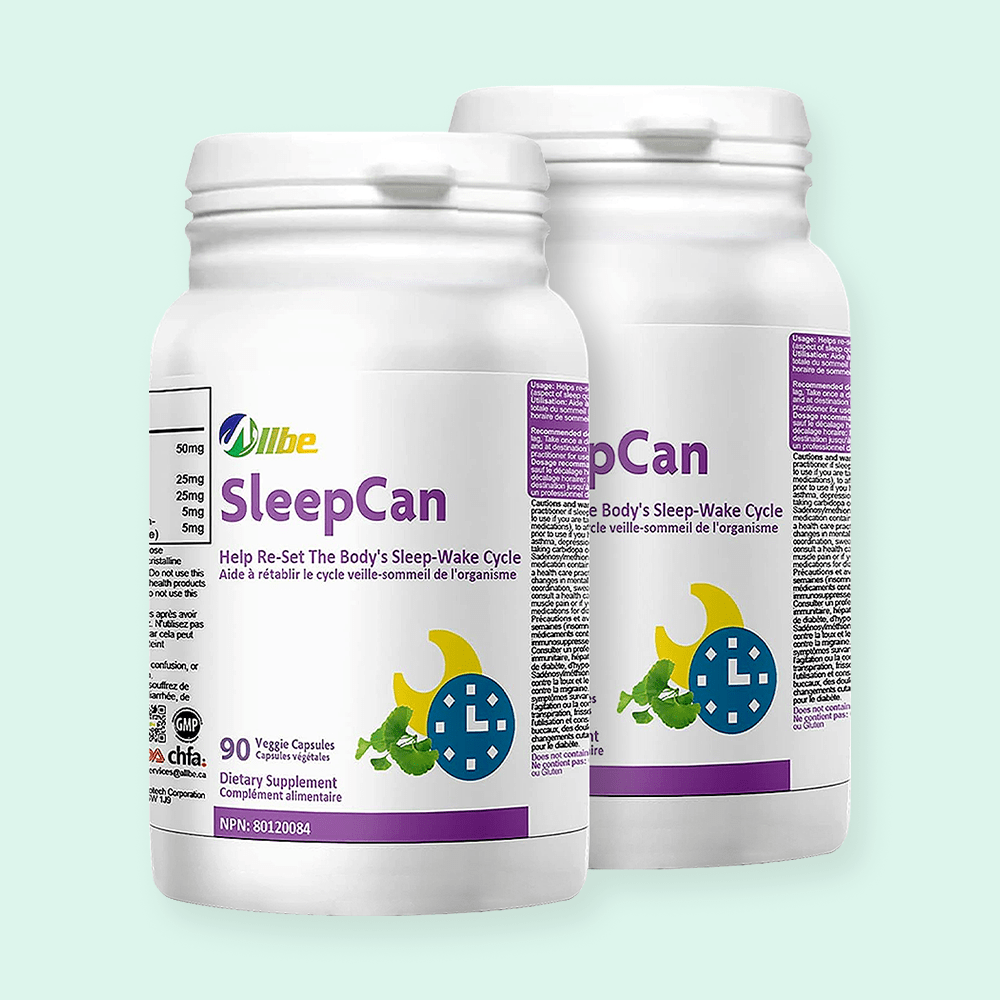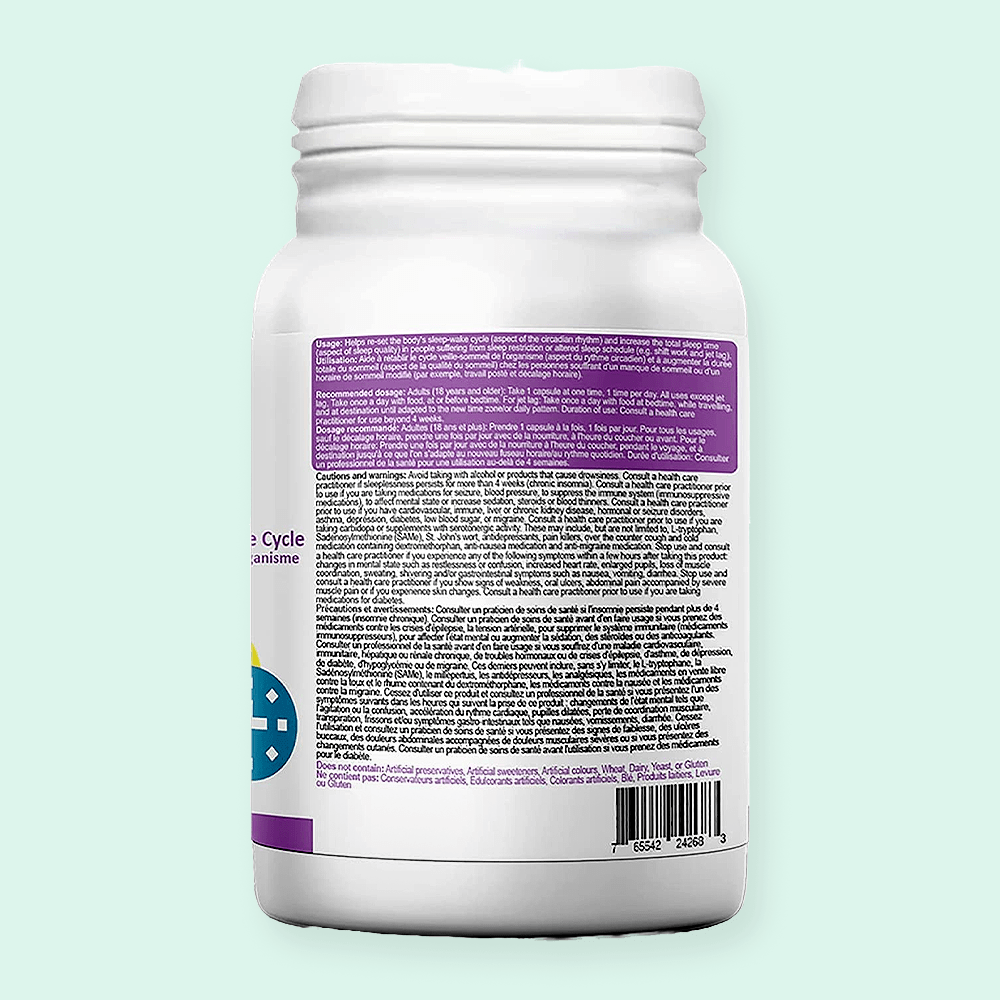 Description
expand_less
expand_more
Whether it's nighttime restlessness or disrupted sleep patterns that trouble you, SleepCan supplements provide immediate and effective sleep support. The unique blend in our supplements tackles the root causes of sleep disturbances, promoting a natural sleep-wake cycle.
Our easy-to-swallow capsules target the affected areas in your body, whether it's your mind struggling to unwind or your body facing restlessness, ensuring relief within moments. These capsules work harmoniously to alleviate sleeplessness, soothing your mind and body with potent calming ingredients.
Nurturing your sleep pathways, SleepCan supports healthier sleep architecture and helps you wake up refreshed. It assists in harmonizing circadian rhythms, leading to improved mood and sharper cognitive function during the day.
What is taking you too long to get your sleep-friendly supplements? Don't worry we offer you both quality and quantity with persistent effects.
Embrace the benefits of improved sleep for a healthier mind, body, and immune system. Get yours today!
Benefits
expand_less
expand_more
NMN 9000 helps you in the following.
Age without Aging:
The NMN capsules promote the SIRTUIN genes which are the key factors for longevity and slow down the aging process.
Enhanced Brain Functioning
With increased cellular energy through NAD+ boost, you can experience a sharper mind and a more resilient body.
Stimulate Muscle Endurance
NMN 9000 has been shown to support muscle strength and endurance which makes it an excellent supplement for athletes.
Raises NAD+ Levels
You can enhance your NAD+ level with these capsules that help boost cellular energy, metabolism, and DNA repair.
Improved Heart Function
Your heart functions might also improve after taking this NMN supplement due to the enhanced metabolism.
Non-GMO and Vegan Friendly
Every bottle has 60 Non-GMO and vegan-friendly capsules. You can use this NMN supplement even if you are vegetarian.
Made In Canada
All our products are made in Canada with GMP-certified facility. So, you can feel confident about the materials used in our supplements.
Lab-Tested Product
NMN 9000 capsules formula is lab-tested and is approved for all the standards of Nicotinamide mononucleotide supplements.
Benefits
expand_less
expand_more
Ingredients
expand_less
expand_more
Plant-Based Ingredients
• Ginkgo Biloba Extract
Non-Plant-based Ingredients
• Melatonin
• L-Theanine
• 5 HTP
• Phosphatidylserine
• Hypromellose
• Microcrystalline cellulose
• Magnesium stearate
Recommended Intake
expand_less
expand_more
You could take 1 capsule a day as needed. Take a meal one to two hours before or after other medication to avoid medication interference.
Moreover, store the bottle in a cool place.
Disclaimer
You must use every supplement as directed by your healthcare provider or physician. If you're pregnant, nursing a baby, or have any other health concerns, make sure to take your doctor's advice before buying supplements.
Our reputation speaks for itself: trusted by customers worldwide
Holistic approach to better sleep
Non-Habit-Forming sleep supplement ingredients
SleepCan capsules pack of 2
Enhance your sleep quality with 2 bottles of SleepCan capsules. Enjoy a restful night's sleep and wake up refreshed.
SleepCan capsules pack of 3
Experience deeper sleep and rejuvenation with 3 bottles of SleepCan capsules. Optimize your sleep cycles and awaken revitalized.
I've been taking these supplements for a few weeks now, and I'm really impressed with the results. I no longer feel sluggish or run down in the afternoons, and I'm able to maintain my energy levels throughout the day. Additionally, I appreciate that these pills are made with natural ingredients, which is important to me.
Overall, I would definitely recommend these supplements to anyone looking for a natural and effective way to boost their energy levels.

Discover the power of ALLBE making wellness impacts on our valued customers.
I had been struggling with sleep issues for years, trying every remedy out there with no success. Then I discovered SleepCan capsules- best supplement for sleep! I now sleep soundly through the night and wake up feeling refreshed and energized.
As a shift worker, I was constantly battling fatigue and feeling out of sync with my body's natural sleep schedule. But since taking this melatonin supplement, my sleep patterns have regulated, and I now feel more focused on the job.
When traveling, jet lag often disrupts my sleep. But SleepCan capsules are a game-changer, helping me fall asleep faster and have improved sleep time, no matter where I am. And I wake up feeling refreshed and ready for the day.
SleepCan capsules have been a lifesaver for my travels. I fall asleep faster, sleep longer, and wake up refreshed every morning. I highly recommend this sleep supplement for anyone seeking a remarkable improvement in their sleep quality.
Sleep well, wake up happy
Feel energized and focused every morning with the best sleep supplement. It help regulate sleep patterns and promote deeper sleep.
Frequently asked questions
Are sleep supplements safe to use?
expand_less
expand_more
Yes, most sleep supplements are safe when used as directed. However, consulting with a healthcare professional before starting any new supplement is recommended.
Will sleep mupplements make me feel groggy In the morning?
expand_less
expand_more
Quality sleep supplements are designed to improve sleep quality without causing grogginess upon waking. They promote restorative sleep cycles.
Are sleep supplements addictive?
expand_less
expand_more
Most sleep supplements are not addictive. They are formulated to help regulate sleep patterns and are not designed to create addiction.
Can i take Sleep supplements if i'm pregnant or breastfeeding?
expand_less
expand_more
Pregnant and breastfeeding women should consult their healthcare provider before using any new supplement, including sleep supplements.
Easy to swallow and approved by Health Canada
These capsules are about a quarter long and easy to swallow. Each capsule contains Melatonin 5mg, 5-HTP 25mg, Phosphatidylserine 5mg, Ginkgo biloba Extract 50mg, L-Theanine 25mg and the recommended dosage is one capsule per day. The capsules are manufactured in Canada, and while I couldnt find it in the listing, they have an NPN (80120084) listed on their website, which means they have been approved by Health Canada. The capsules are also gluten-free.
I do find that these capsules help me fall asleep a bit faster, but its about the same as similar tablets without the ginkgo biloba extract.
A gentle nod to a blissful sleep
The SleepCan capsules are an excellent supplement to help with those nights where you have difficulty sleeping. I take these with me when I travel as I have family who snore and have difficulty falling asleep. I have looked at many different kinds of sleeping aids and I find that this product has worked well for me. 5mg of melatonin is a good amount, and with the additional supplements mixed in, I found that it gently pushes you towards sleep without knocking you out. I like that this kind doesn't make you feel very groggy when you wake up in the morning and leaves no bad aftertaste in your mouth when you take it. 1 capsule as instructed is more than enough for what you need to help you fall asleep
Helped Me Get To Sleep
The Allbe SleepCan melatonin capsules arrived securely in a Ziploc bag inside an Amazon bubble pack. The double-seal system ensured no tampering. While the capsules promoted faster sleep onset and reentry, these stood up to the mark for me.
Would highly recommend
Seem more effective than just melatonin for me, at least.
They come in easy-to-swallow capsules. I don't notice any aftertaste. They work as well as any other 5mg melatonin products. But I was hoping the other ingredients would enhance the efficacy. I saw no noticeable difference, though. It might be different for someone else. I am an overweight guy, so the doses of the various things may be small and may pack a wallop for another person. But for me, there are higher-dose melatonin tablets that work better and cost less.
Good to help you reset your sleeping schedule.
These sleep assist capsules are just what I needed to help me reset my sleeping schedule after our week's vacation. We usually use regular Melatonin capsules, but I think they work better afterward. We were able to fall asleep a little easier and stay asleep.
Effective midnite sleep aid
Natural ingredients like L-theanine, melatonin, and 5-htp promote sleep time and quality. These non-addictive components make it a potent natural sleep aid.