Gastric relief is a natural solution to improve digestive enzymes for indigestion. A natural formulation that relieves gastric acidity and burns.
✔ Promotes digestion
✔ Relives acidic reflux
✔ Improves digestive enzymes
✔ Dyspepsia care

Regular price
$39.99 CAD
Sale price
$23.99 CAD
Unit price
per
Sale
Sold out
View full details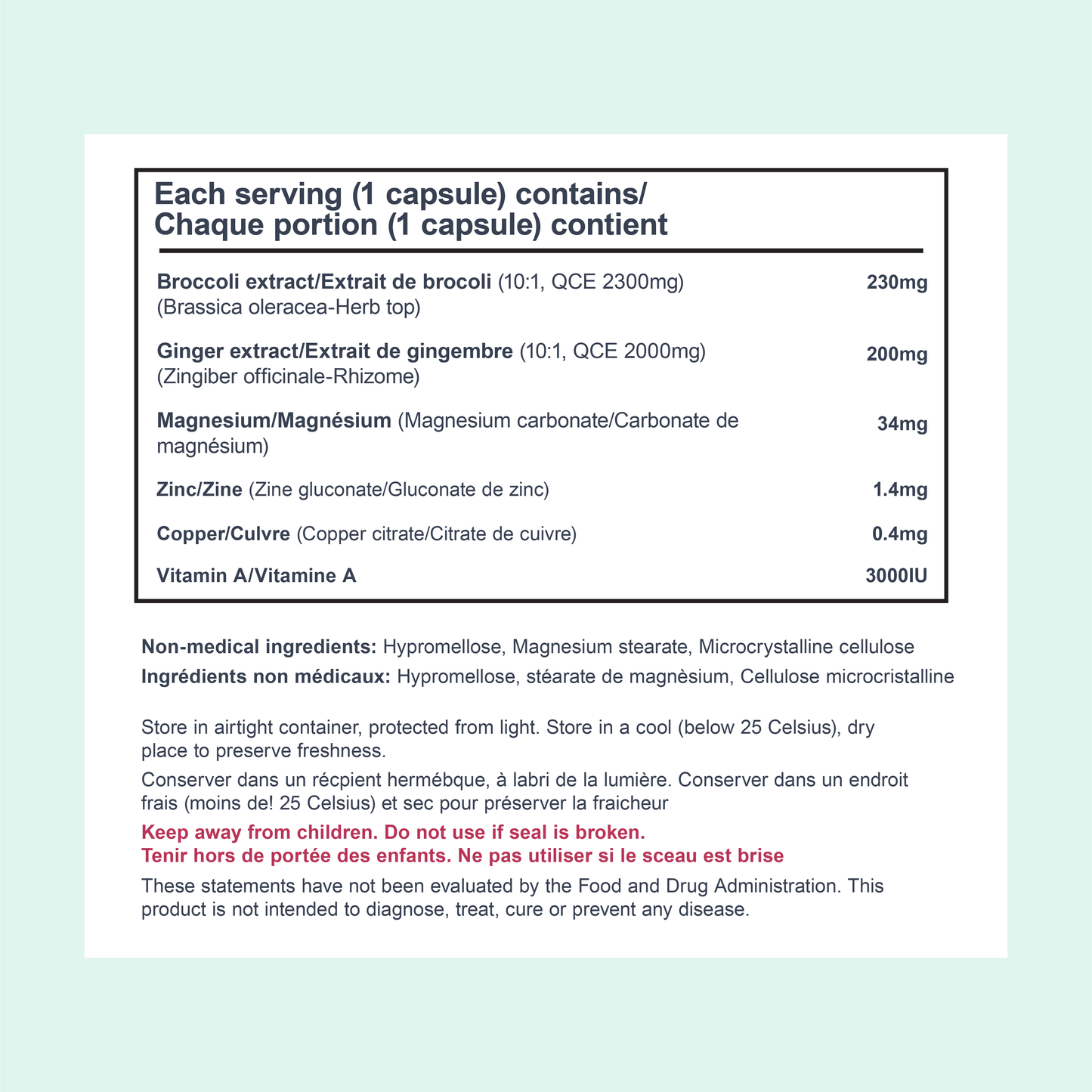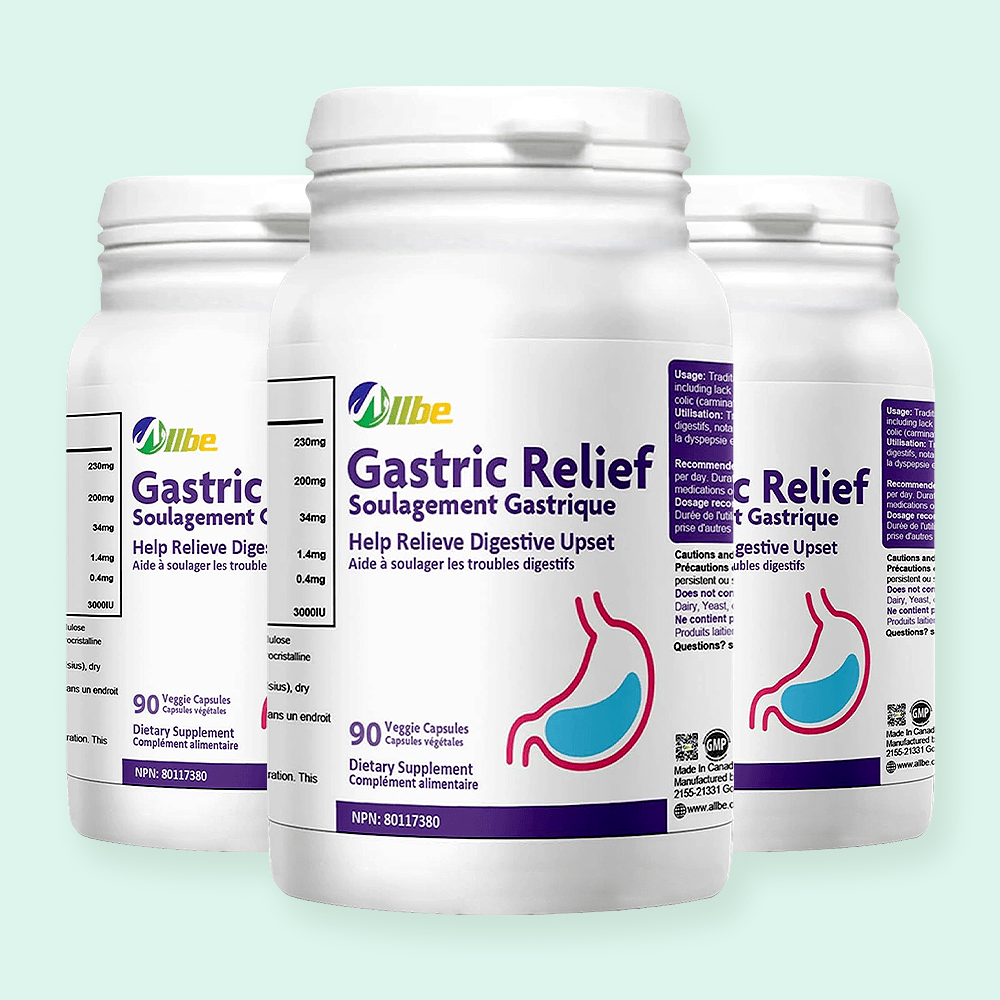 Experience the quality and reliability our customers have come to expect
Enhance your digestive wellness
Description
expand_less
expand_more
Your ultimate gastric support
Get rid of your persistent gastric issues and begin the journey to a healthy and strengthened gut. Whether it is a gastric burn or dehydration that takes is causing your trouble, gastric relief supplements provide immediate and effective gastric support. The ginger extract in our supplements exits all the gas within the digestive tract.
Our swallowable capsules reach the affected region with the stomach or gut to pacify all the damage within minutes. It soothes acid reflux or belching with all potent anti-oxidant ingredients.
It eases food movements within the digestive tract, thus facilitating its metabolic fate. It also nourishes the GI tract and gut flora.
Don't put your gut in trouble by having chemical-based supplements. Instead, trade them with an herbal and natural solution for optimized digestive health.
Get the benefit of our gastric relief supplement for a better gut, stomach, and immune. Today and forever.
Benefits
expand_less
expand_more
Gastric Relief-90 capsules helps you in the following.
Better Digestion
The ginger and broccoli extract nourishes your digestive system with naturally stimulating ingredients that promote digestion. They also nourish your gut flora, thereby enhancing gut health.
Dyspepsia care
Dyspepsia. AKA impaired digestion can be improved by fetching your body essential nutrients needed for metabolic processes—our supplement sources you with fiber that facilitates food passage and reduced stomach pain and inflammation. Other than that, magnesium in our supplements relieves acid burn caused due to spicy food or alcohol intake.
Reduces gastric inflammation
The ginger extract plus magnesium provides the needed anti-inflammatory effect, which regulates inflammatory pathways. It also protects the gastric tissues from the stress caused by free radicals.
Bowel movement regulation
Regular fiber-enriched supplements provide your body with the fiber intake needed by the body in the state of Diarrhea and constipation.
Enhanced nutrient absorption
Gastric relief supplement provides nutrients and enhances digestive vitals' absorption ability from the food you have just consumed. By regulating nutrient absorption, we control the availability of nutrients to the muscles in their hour of need.
Say no to Nausea
Nausea and vomiting are the two most common ailments that come along with impaired digestive health. Our gastric relief supplement helps eliminate both nausea and vomiting, and it makes sense of freshness.
Benefits
expand_less
expand_more
Ingredients
expand_less
expand_more
Natural gastric problems demand natural solution.
Plant-based Ingredients
• Ginger extract
• Broccoli extract
• Vitamin A
Non-plant based ingredients
• Magnesium
• Zinc
• Hypromellose
• Microcrystalline cellulose
• Magnesium stearate
Recommended Intake
expand_less
expand_more
Soothing your digestion, 1 capsule at a time
You could take 1 capsule twice a day as needed. Take a meal one to two hours before or after other medication to avoid medication interference.
Lab Test Report
expand_less
expand_more
Gut-Healthy ingredients for digestive relief
Gastric Relief capsule pack of 3
Experience relief for your digestive system with 3 bottles of Gastric Relief capsules. Calm and soothe your stomach for enhanced well-being.
I've been taking these supplements for a few weeks now, and I'm really impressed with the results. I no longer feel sluggish or run down in the afternoons, and I'm able to maintain my energy levels throughout the day. Additionally, I appreciate that these pills are made with natural ingredients, which is important to me.
Overall, I would definitely recommend these supplements to anyone looking for a natural and effective way to boost their energy levels.

Discover the power of ALLBE making wellness impacts on our valued customers.
I'm always wary of putting chemicals in my body. So, I was thrilled to find a natural solution to my digestive problems with Gastric Relief. The broccoli sprouts and organic ginger are gentle yet effective.
I never knew how much my digestive issues were impacting my daily life until I found this digestive health supplement. Now, I can focus on my day without worrying about uncomfortable symptoms.
I dreaded meal times due to the pain and inflammation in the gut. But after taking these vitamins for gut inflammation, I feel like a new person. No more discomfort, just relief.
Before trying Gastric Relief capsules, I would always feel uncomfortable after meals. But since taking them, I feel much better and can enjoy my food without worrying. Highly recommend!
Start taking care of your gut health today with our supplement for digestion and experience instant relief. We pack our capsules with vitamins for digestion that improve overall gut health.
Frequently asked questions
How often should I take Gastric Relief capsules?
expand_less
expand_more
The recommended serving size is one capsule per day with a meal.
Is it Safe for Pregnancy or Breastfeeding?
expand_less
expand_more
Where gastric supplements relieve you of gastric irritability that comes with pregnancy, taking the supplement under healthcare prescription is still recommended to avoid the consequences.
How To Reduce Stomach Acid And Burns?
expand_less
expand_more
In case of heat burn or acidity, gastric relief supplements make the best choice. It efficiently regulates poor or impaired digestion. It could be further harnessed by increasing water consumption to restore the hydration of your digestive tract.
What Supplement Is Suitable For Gastric Support?
expand_less
expand_more
To get the ultimate gastric support, use the gastric supplement consistently paired with natural remedies such as chamomile tea, peppermint, and ginger.
Is Gastric Relief Supplement Safe For Children?
expand_less
expand_more
While some gastric relief supplements may be safe for children, their use should always be under the supervision of a healthcare provider due to the potential for adverse effects and dosage considerations. Always consult a pediatrician before giving any supplement to a child.
How long does it take for Gastric Relief capsules to start working?
expand_less
expand_more
The effects of the capsules may vary from person to person, but some individuals may notice relief from digestive upset within a few days of starting the supplement.
Relieve digestive discomfort
Don't let digestive upset ruin your day. Our capsules are formulated with natural ingredients that can help ease discomfort and promote digestive health.
No side effects
It works to help relieve digestive upset and is suitable for gut health. No side effects so far.
Good product
As someone with a sensitive stomach, I'm always cautious about what I eat. This supplement has given me the confidence to enjoy various foods without worrying about digestive discomfort.
Easy-to-swallow capsules
I had concerns about the taste and texture of this supplement, but I was pleasantly surprised. The flavor was subtle, and the capsules were easy to swallow. It's a small detail, but it made incorporating it into my routine more pleasant.
Calling it a great deal!
Initially skeptical, but this supplement worked wonders for my chronic indigestion. I can now enjoy my favorite foods without any digestive issues.
Happy with the gastric
It is all-natural made, and works well for me. It relieved my gastric discomfort, but I think the adjusted dose will work better.