Free Delivery & Return
Market Leading Guarantees
Rated Excellent On Trustpilot
Finest Material & Fairest Price
A potent probiotic formula with 7 active strains for enhanced gut health and resolved digestive problems.
• Maintains intestinal berries
• Balances gut ecosystem
• Nourishes gut microflora
• Promotes digestion
• Treats antibiotic-related diarrhea

Regular price
$62.97 CAD
Sale price
$60.99 CAD
Unit price
per
Sale
Sold out
View full details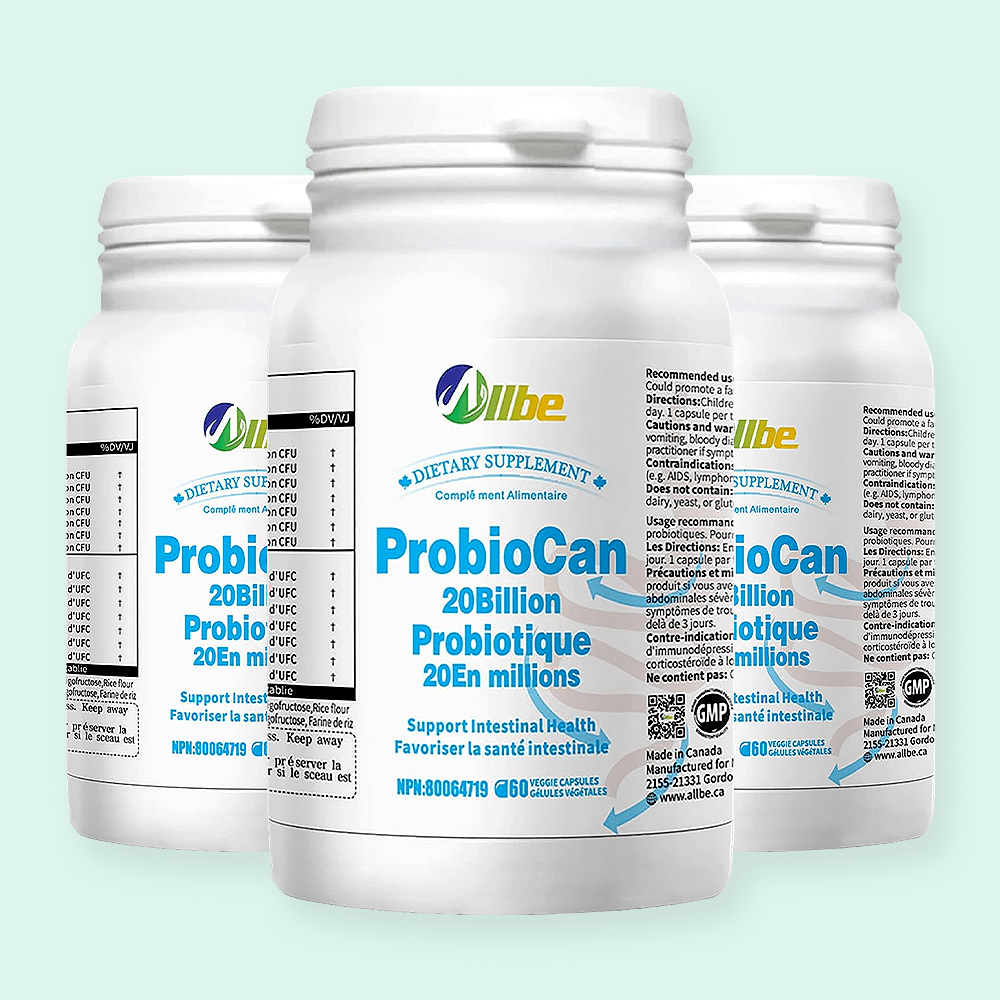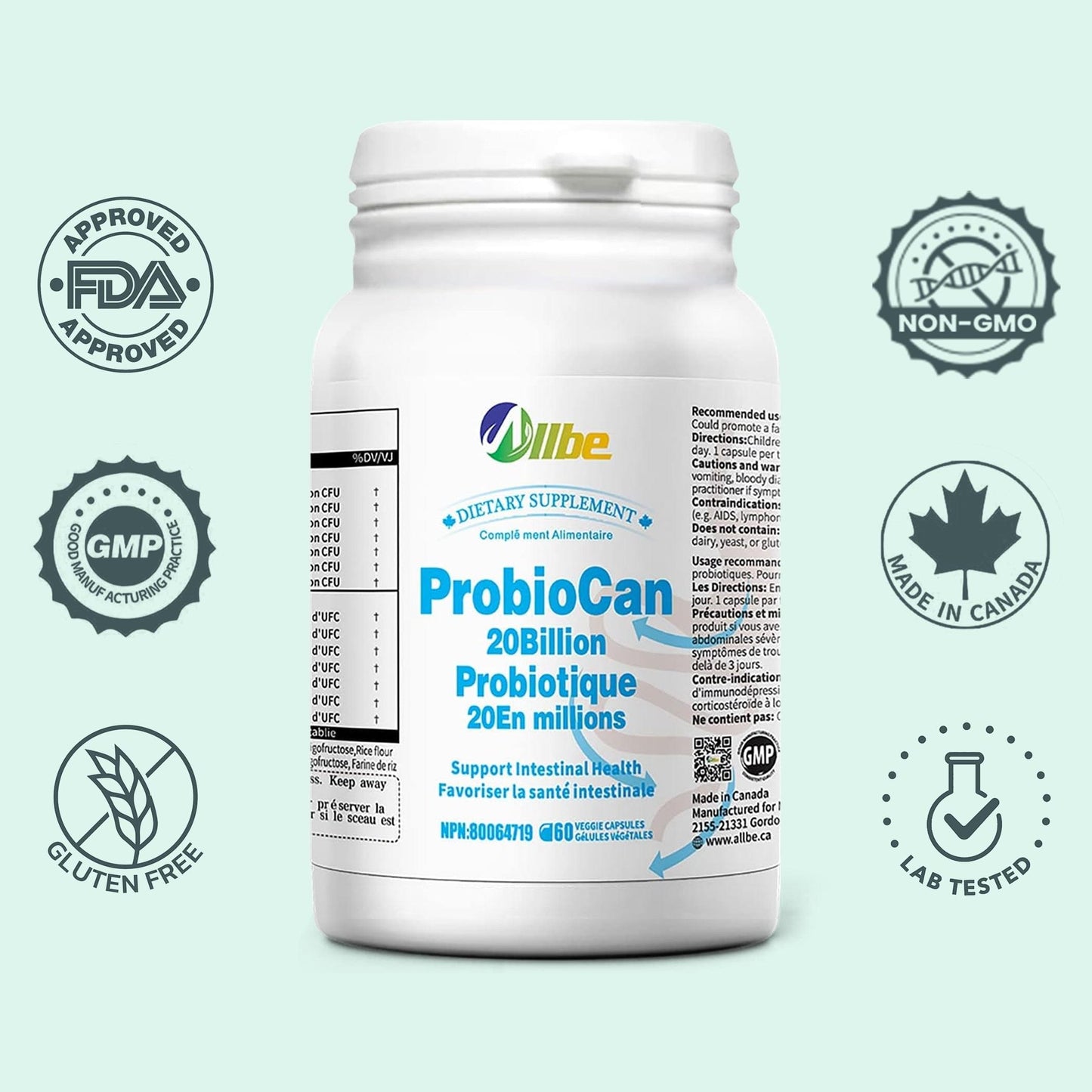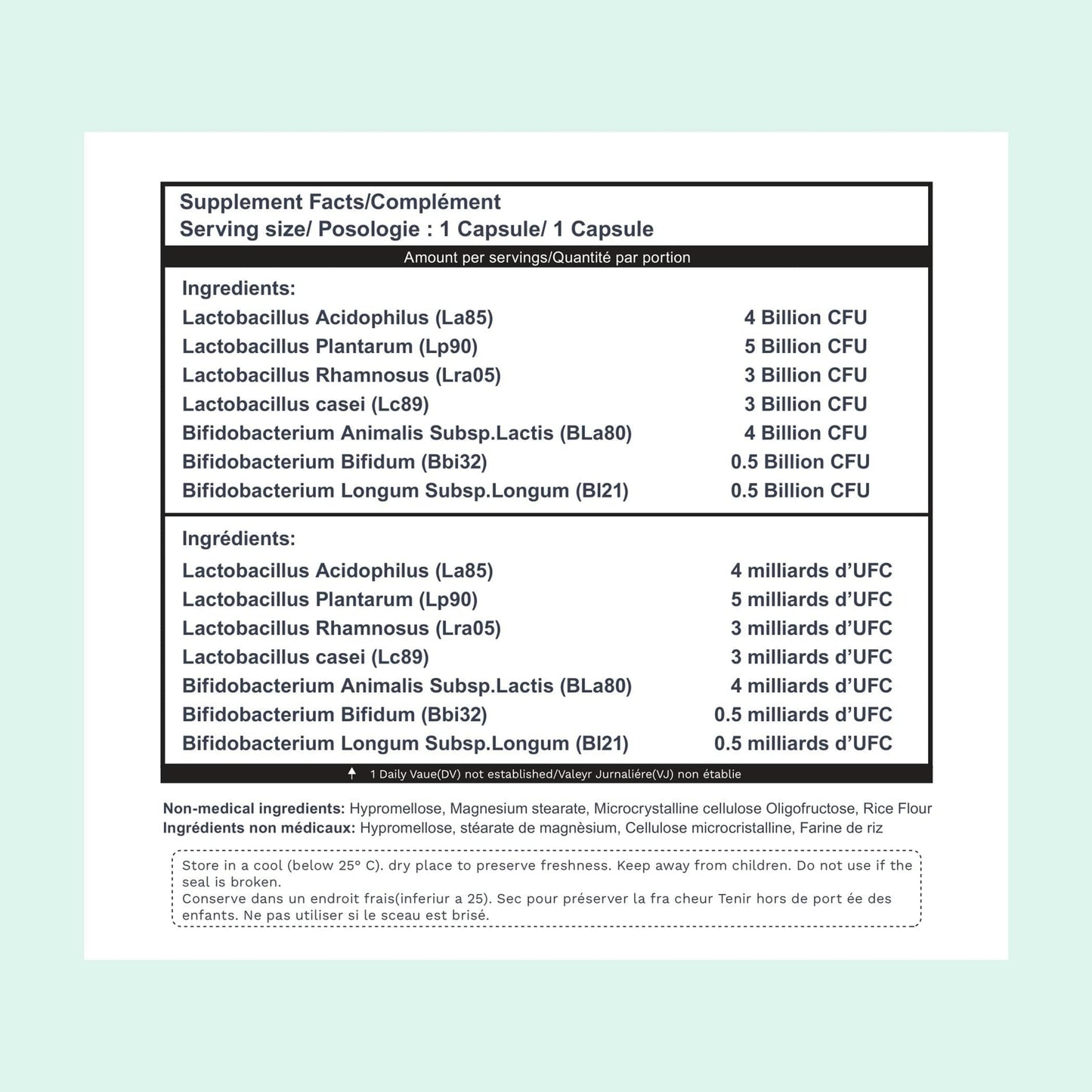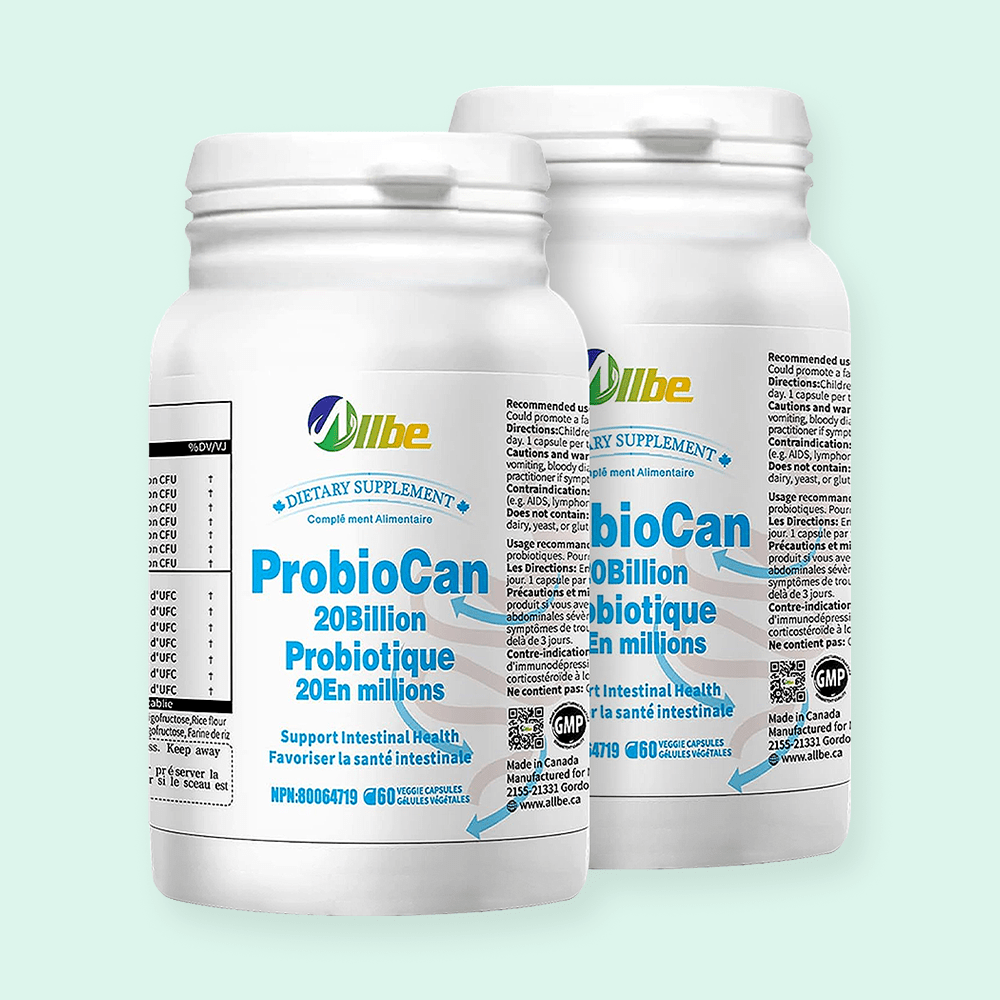 Description
expand_less
expand_more
Our unique formulation works synergistically to promote a healthy balance of gut bacteria, allowing for improved digestion and nutrient absorption. By supporting the growth of beneficial bacteria in your gut, our supplement can help alleviate digestive discomfort, such as bloating and irregular bowel movements, promoting a healthier gut environment.
These probiotic strains have been carefully selected for their benefits, including enhanced immunity, reduced inflammation, and strengthened intestinal barriers. With a fortified immune system, you may experience improved resistance to common illnesses and infections, allowing you to feel your best all year round.
Not only does our gut supplement focus on digestive health, but it also extends its benefits to other areas of well-being. Our formulation's harmonious combination of probiotic strains has been associated with potential improvements in skin health, mental well-being, weight management, and oral health.
Incorporate our advanced gut supplement into your daily routine, and experience the combined effects of these potent probiotic strains on your gut health and overall well-being.
Benefits
expand_less
expand_more
ProBioCan 20B helps you in the following.
Prevention of Clostridium difficile infection
Probiotics, particularly certain strains of Lactobacillus and Saccharomyces, have been shown to help prevent the overgrowth of Clostridium difficile bacteria, which can cause severe diarrhea and infection.
Strengthens immunity
Probiotics have been shown to enhance the body's immune response, reducing the risk and severity of respiratory tract infections, allergies, and autoimmune diseases.
Promotion of regular bowel movements
Probiotics can help regulate bowel movements and prevent or alleviate conditions like constipation by promoting the growth of beneficial bacteria and improving overall gut motility.
Management of lactose intolerance
Certain probiotic strains, such as Lactobacillus acidophilus and Bifidobacterium lactis, produce the enzyme lactase, which aids in the digestion of lactose. Supplementing these probiotics can help improve lactose digestion in individuals with lactose intolerance.
Improves oral health
Probiotics can help maintain oral health by reducing the growth of harmful bacteria in the mouth, preventing bad breath, and reducing the risk of gum disease and tooth decay.
Improves vaginal health
Some probiotic strains, like Lactobacillus rhamnosus, help maintain a healthy balance of bacteria in the vagina, preventing the overgrowth of harmful pathogens and reducing the risk of vaginal infections. They may also relieve symptoms associated with menopause, such as vaginal dryness and urinary incontinence.
Benefits
expand_less
expand_more
Ingredients
expand_less
expand_more
Bacterial Strains:
• Lactobacillus acidophillus
• Lactobacillus plantarum
• Lactobacillus rhamnosus
• Lactobacillus casei
• Bifidobacterium bifidum
• Bifidobacterium longum
• Bifidobacterium animalis
Other ingredients:
• Hypromellose
• Magnesium stearate
• Microcrystalline cellulose
• Oligofructose
• Rice flour
Recommended Intake
expand_less
expand_more
You can have 1 capsule a day. Just ensure you have it 2-3 hours before or after the intake of antibiotics to avoid drug interference.
Count on us to deliver the quality and service you deserve
Take control of your gut health with probiocan
ProBioCan 20B - a potent Gut Health supplement
Gut-healthy goodness inside gut health supplement
Lactobacillus acidophilus
ProbioCan 20 Billion capsules pack of 2
Restore your gut health with 2 bottles of ProbioCan 20 Billion. Support your digestive system and strengthen your immune function.
ProbioCan 20 Billion capsules pack of 3
Achieve optimal digestive balance with 3 bottles of ProbioCan 20 Billion. Replenish beneficial bacteria and promote a healthy gut microbiome.
I've been taking these supplements for a few weeks now, and I'm really impressed with the results. I no longer feel sluggish or run down in the afternoons, and I'm able to maintain my energy levels throughout the day. Additionally, I appreciate that these pills are made with natural ingredients, which is important to me.
Overall, I would definitely recommend these supplements to anyone looking for a natural and effective way to boost their energy levels.

Discover the power of ALLBE making wellness impacts on our valued customers.
I've tried multiple supplement for gut health in the past, but none have worked as well as ALLBE ProbioCan 20 Billion. My gut health has improved significantly, and I no longer suffer from digestive discomfort.
I highly recommend ALLBE ProbioCan to anyone struggling with irregular bowel movements. bifidobacterium probiotic significantly improved my gut health.
I've had issues with bloating, but ALLBE ProbioCan 20 Billion significantly reduced these symptoms. My gut health has improved, making me feel more comfortable.
Digestive comfort improved
I've struggled with digestive issues, but this gut health supplement for men has made a remarkable improvement. The discomfort is gone, and my gut health is better than ever. Highly recommend!
Our probiotic supplement can help regulate your digestive functions and promote optimal gut health.
Get the best probiotic for gut health and weight loss today!
Frequently asked questions
How many capsules are in a bottle of ProbioCan 20 Billion?
expand_less
expand_more
Each bottle contains 60 capsules, which provides a 60-day supply.
Are these probiotics dairy-free and gluten-free?
expand_less
expand_more
Yes, these probiotics are dairy-free and gluten-free, making them suitable for individuals with dietary restrictions.
Can I take ProbioCan 20 Billion with other supplements or medication?
expand_less
expand_more
It is always best to consult with your healthcare provider before taking any new supplement or medication, especially if you
have any medical conditions or are taking prescription drugs.
How should I store ProbioCan 20 Billion?
expand_less
expand_more
It is recommended to store this product in a cool, dry place away from direct sunlight.
Are the probiotics in ProbioCan 20 Billion suitable for vegetarians or vegans?
expand_less
expand_more
Yes, the probiotics in this supplement are suitable for vegetarians and vegans.
How soon will I notice the benefits of taking ProbioCan 20 Billion?
expand_less
expand_more
Everyone's body is different, but most people report feeling the benefits within a few days to
a few weeks of starting to take this supplement.
Take care of your gut health with our probiotic supplement and enjoy improved overall wellness.
So far, so good
I am getting the expected results
This is my third week using this product
Just a probiotic, nothing special
I googled probiotic for menopause, and this is what came up, but it certainly is not a probiotic for menopause because it's just a probiotic it doesn't have anything particular in it. But now disappointed, it is improving other health issues like poor gut performance.
Contains Lactobacillus Gasseri
Recommended by a nutritionist for weight loss.
Great way to maintain your gut health!
I've been quite happy with this probiotic. I've been using these for a while now to help with my IBS, which has worked well for me. Everyone will be different, and the evidence is mixed on how helpful probiotics can be, but from my own experience, I've been quite happy with this. This contains a good number of CFU in it with a good mix of probiotics as well. I like that these are shelf stable, which makes storing them even more straightforward. I've found these have been great to help keep up my gut health, I've been very regular and feeling good. Considering the number of CFUs per pill, this is a well-priced option. I 100% would recommend it!
Clean ingredients, a wide variety of probiotics
This is the first time I've tried an Allbe supplement, and I am impressed thus far with this probiotic. I haven't had these for over a month, which is usually how long I find for a probiotic to start working and altering my gut microbiome to change how I feel. However, I can speak on my experience with them thus far. I rotate through probiotics trying different ones all the time to diversify my gut, and ill usually know within the first week if the probiotic is for me or not, and these ones seemed to be okay.
The caps are relatively small, and I'm not a pill person in the slightest, I also noticed they were pretty tasteless.
50 billion CFU at the time of packaging is an excellent dose, I also keep them in the fridge (it doesn't recommend to, I just do).
It has an active NPN, and I'm happy with the ingredients and the different quality strains of probiotics.
$39 for 50 billion probiotics daily for 2 months is an excellent deal all day.