Free Delivery & Return
Market Leading Guarantees
Rated Excellent On Trustpilot
Finest Material & Fairest Price
An advanced eye support supplement with clinically tested ingredients for better vision, macular support,  itchy eyes, and optical performance.
• Keeps cataracts away
• Long-term support for cornea and retina
• Better night vision and blood flow
• Helps filter blue light
• Reduces screen strain and fatigue

Regular price
$106.65 CAD
Sale price
$63.99 CAD
Unit price
per
Sale
Sold out
View full details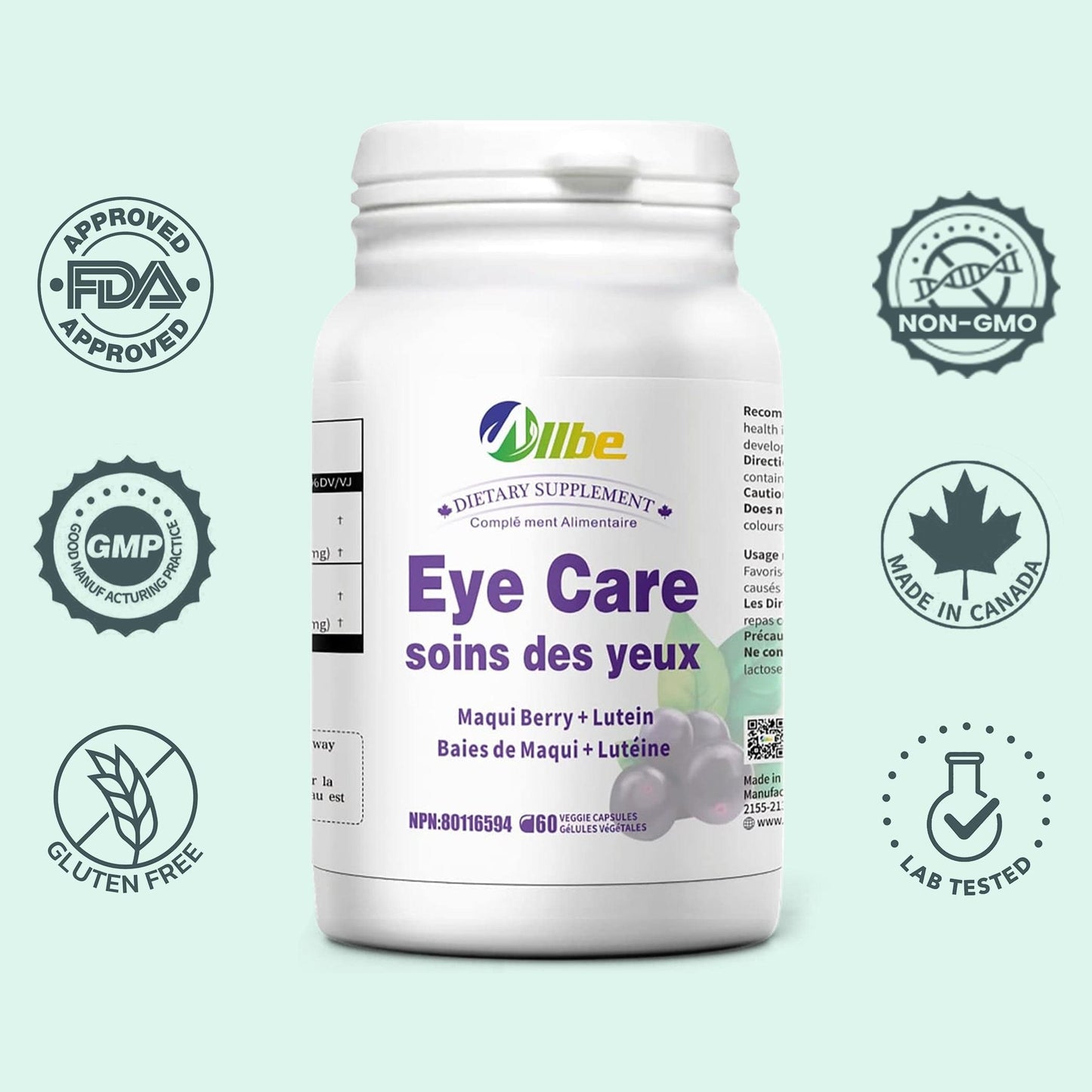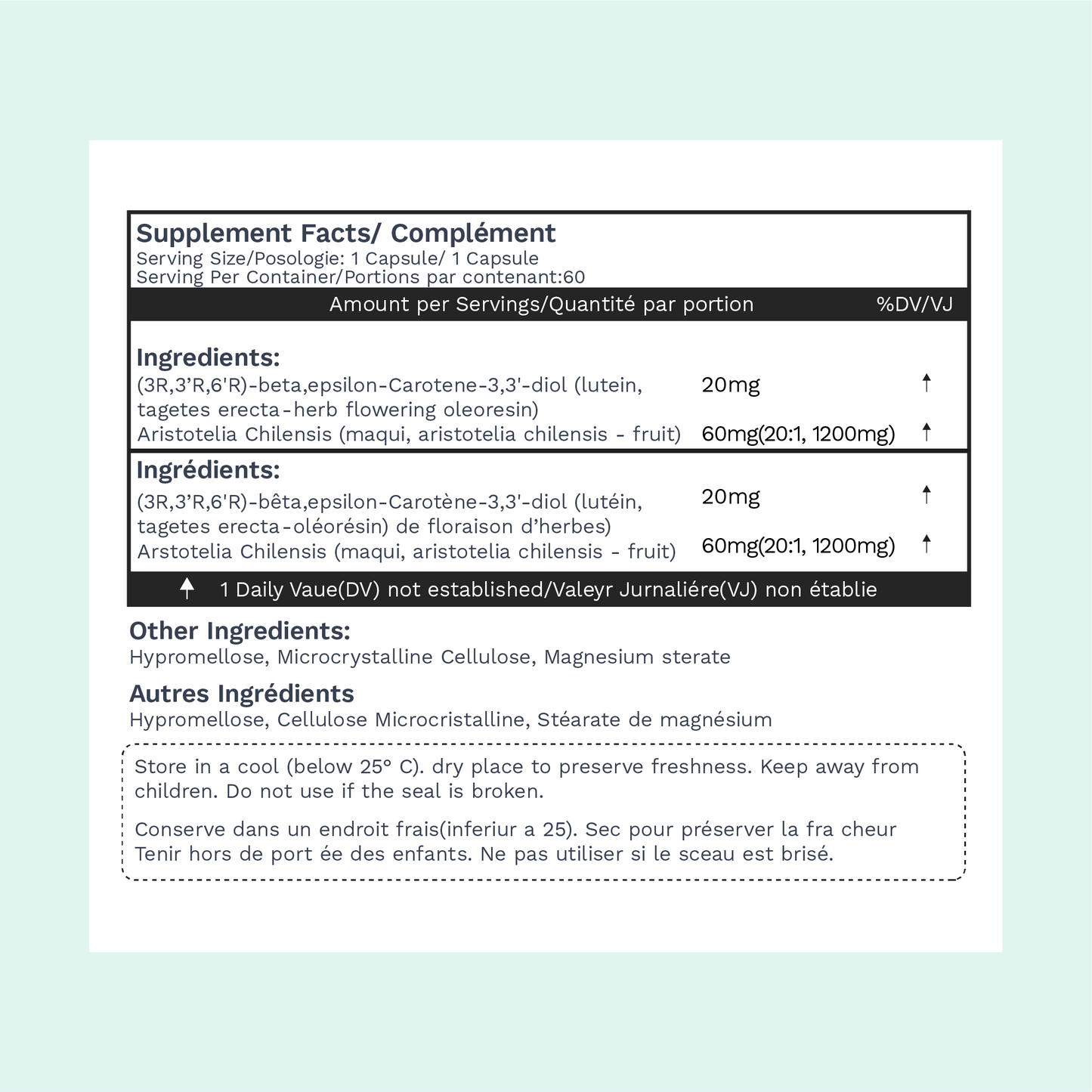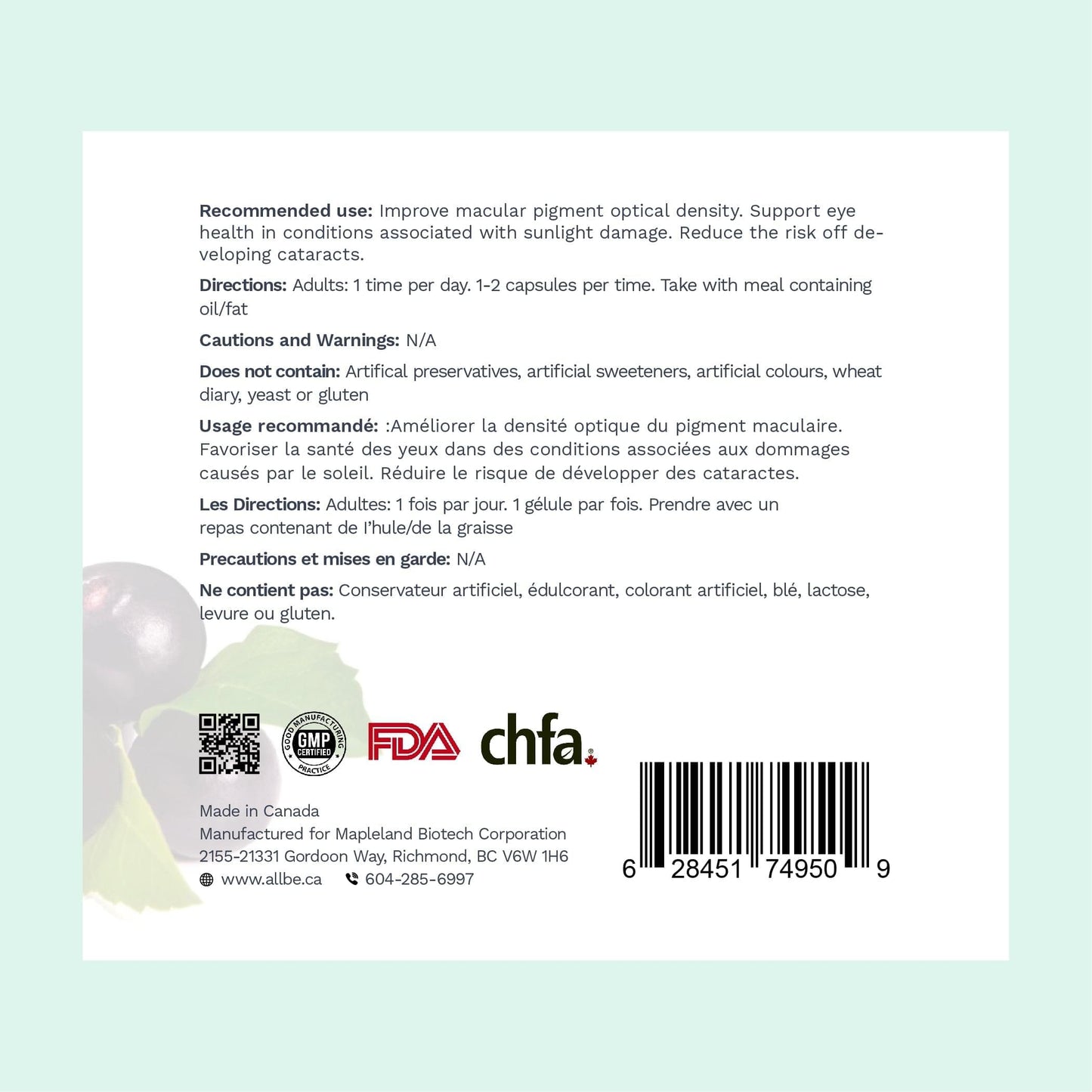 Description
expand_less
expand_more
The difference you can see
Our Eyecare supplement is a clinically formulated blend that supports optimal eye health. It is enriched with maqui berry extract and lutein, providing nourishment to retain eyesight. This supplement works best for adults who have to deal with age-related macular degeneration.
If you are done with persistent eye strain and fatigue, Allbe Eye Care is a definite eye savior. Its active antioxidant ingredients protect the corner and retina from blue light damage.
This mighty supplement turns your eye bright and shiny. Its natural carotenoids effectively treat eye soreness and ensure healthy blood circulation.
So what are you waiting for, your optimal eye support is just a step away. Get your eyecare supplement and enjoy improved and better eyesight today.
Benefits
expand_less
expand_more
EyeCare 60 helps you in the following.
Supports blue light filtering
Eye care supplements containing macular pigment carotenoids like lutein and zeaxanthin support blue light filtering in the eye.
Improves vision
The moderate and consistent intake of EyeCare supplements improves blurred vision. It also treats watery eyes by removing all the dust and gunk.
Macular support
Carotene-rich eye care supplements provide an anti-oxidant shield to the macula. In addition, it also sources lutein and xanthin, which are the building block of the retina, thus enhancing your sight performance.
Sunlight protection
It shields the optical cells from UV light damage. It also treats the conditions which are caused due to severe sunlight exposure.
Promotes dry eye lubrication
Its active ingredients hydrate the eyes and increase blood circulation in the eye region, effectively treating itchy, scaly, and dry eyes.
Treats eye strain and fatigue
By enhancing blood circulation, eye care supplements nourish the eyes with the needed nutrients, which treat common fatigue and strain that come with the constant use of screens and gadgets. In addition, the phytochemicals also relieve the burning of the eyes by rendering a cooling effect.
Benefits
expand_less
expand_more
Ingredients
expand_less
expand_more
Plant-Based Ingredients:
• Maqui Berry Extract
• Carotene Extract
• Lutein Extract
Non-plant based Ingredients
• Hypromellose
• Microcrystalline cellulose
• Magnesium citrate
Recommended Intake
expand_less
expand_more
Take one capsule daily with a meal that contains fat.
Join the thousands of satisfied customers who trust us
Revitalize your eyes with our Eye Vitamins
Powerful vision-enhancing ingredients
EyeCare capsules pack of 2
Take care of your eyes with this pack of 2 Allbe EyeCare capsules. Support your vision and maintain optimal eye health.
EyeCare capsules pack of 3
Give your eyes the extra care they deserve with this pack of 3 Allbe EyeCare capsules. Enhance eye function and protect your vision.
I've been taking these supplements for a few weeks now, and I'm really impressed with the results. I no longer feel sluggish or run down in the afternoons, and I'm able to maintain my energy levels throughout the day. Additionally, I appreciate that these pills are made with natural ingredients, which is important to me.
Overall, I would definitely recommend these supplements to anyone looking for a natural and effective way to boost their energy levels.

Discover the power of ALLBE making wellness impacts on our valued customers.
ALLBE Eye Care supplement for dry eyes solved my years-long struggle with dry eyes. In just a few days, I noticed a significant improvement in dryness and discomfort. My vision is also clearer and sharper.
Long computer hours made my eyes, but ALLBE Eye Care capsules helped a lot. My eyes feel relaxed, less fatigued and I have better night vision. Highly recommended!
Living in a tropical climate, cause sun damage to eyes. My eyes were in pain due to this. ALLBE Eye Care capsules made a significant difference in a few days. My eyes are more comfortable, and I don't squint as much.
ALLBE Eye Care capsules improved my cloudy vision at night. It has best vitamins for blurry vision that effectively improve my eye sight. Highly recommended
Experience the benefits of ALLBE vitamin for eyes that make clearer, healthier eyes. Order now and see the difference
Frequently asked questions
How long does Allbe Eyecare take to improve eye health?
expand_less
expand_more
The efficacy of any supplement is a matter of consistency and care. If you take the eye care supplement consistently and ensure the necessary care, you can see the results within weeks.
Is Allbe Eyecare supplement safe for the eyes?
expand_less
expand_more
Yes, allbe Eyecare is safe since it is third-party and clinically tested before human administration.
What time of the day should I take the eyecare supplement?
expand_less
expand_more
It is a matter of personal preference. But as per our suggestion, it is best to consume eyecare supplements with or soon after the meal. It is done because our supplement is filled with carotenes and lutein, and taking it with a meal increases their absorption ability.
What is carotene, and how do they improve eye health?
expand_less
expand_more
Carotenes represent a class of phytochemicals with potent antioxidant ability which protect the eyes from free radical damage.
Can ALLBE Eye Care capsules be taken by children?
expand_less
expand_more
ALLBE Eye Care Capsules are specifically formulated for adults and should not be taken by children without consulting a healthcare professional.
Take control of your eye health with ALLBE Eye Care capsules. Order now and enjoy clear vision and healthy eyes
Good source of maqui berry and Lutein, taking 1 capsule daily with food as directed.
Been taking it daily for the last thirty days, and this has not improved my nearsightedness vision as of yet or thus far. I notice when I am on my laptop or around blue light 💡 my eyes do not hurt as much, and they don't get as irritated as they did beforehand. It would be a better supplement if they could add vitamin A to this mix, as my other vision supplements contain this. Overall I will be ordering more and continuing to take these as directed. If they can't reverse 🔄 my eye 👁 problems, hopefully, 🙏 they can stop them from worsening.! Only time will tell. I will follow up ⬆️ in the future to see if I will experience more positive effects on my eye health.
Good product; go for it.
This eye care supplement has exceeded my expectations—improved vision and reduced eye strain – a win-win for my eyes.
So far, so good
I don't have good eyesight as I have astigmatism and always suffer from dry eyes. My night vision is pretty bad, and I am concerned that the situation will get worse with aging. People suggest I take Lutein as it helps with eye problems. So here I come trying this Lutein eye supplement for the first time. I picked up this brand mainly because it's made in Canada, approved by FDA & chfa, and manufactured in GMP certified facility. All these certifications give me confidence and assurance that what I am consuming is natural, organic, and safe for the body. I have been taking the supplement for the last 3 weeks and have had no adverse effects or significant eye-light changes. However, my night vision is improving, especially when I read on a laptop. I need to find out if this is the result of this supplement. Regardless, I will continue taking this supplement and look forward to more improvement.
Fingers crossed
I had high hopes, but the results have been underwhelming. Will continue using it to see if it improves.
Breakthrough
I've struggled with macular degeneration for years, but my condition has shown remarkable improvement since I started taking this eye care supplement. The carefully selected ingredients have proven incredibly beneficial, and I'm now experiencing sharper vision and enhanced color perception. It's truly a breakthrough for me!"