A multivitamin formula provides your bones with ultimate strength and resilience. It increases collagen production and strengthens your bones, nails, and hair.
✔ No Side Effects
✔ Improves muscles contraction and nerve function
✔ Supports calcium absorption
✔ Trusted by 2500+ customers worldwide

Regular price
$24.99 CAD
Sale price
$22.99 CAD
Unit price
per
Sale
Sold out
View full details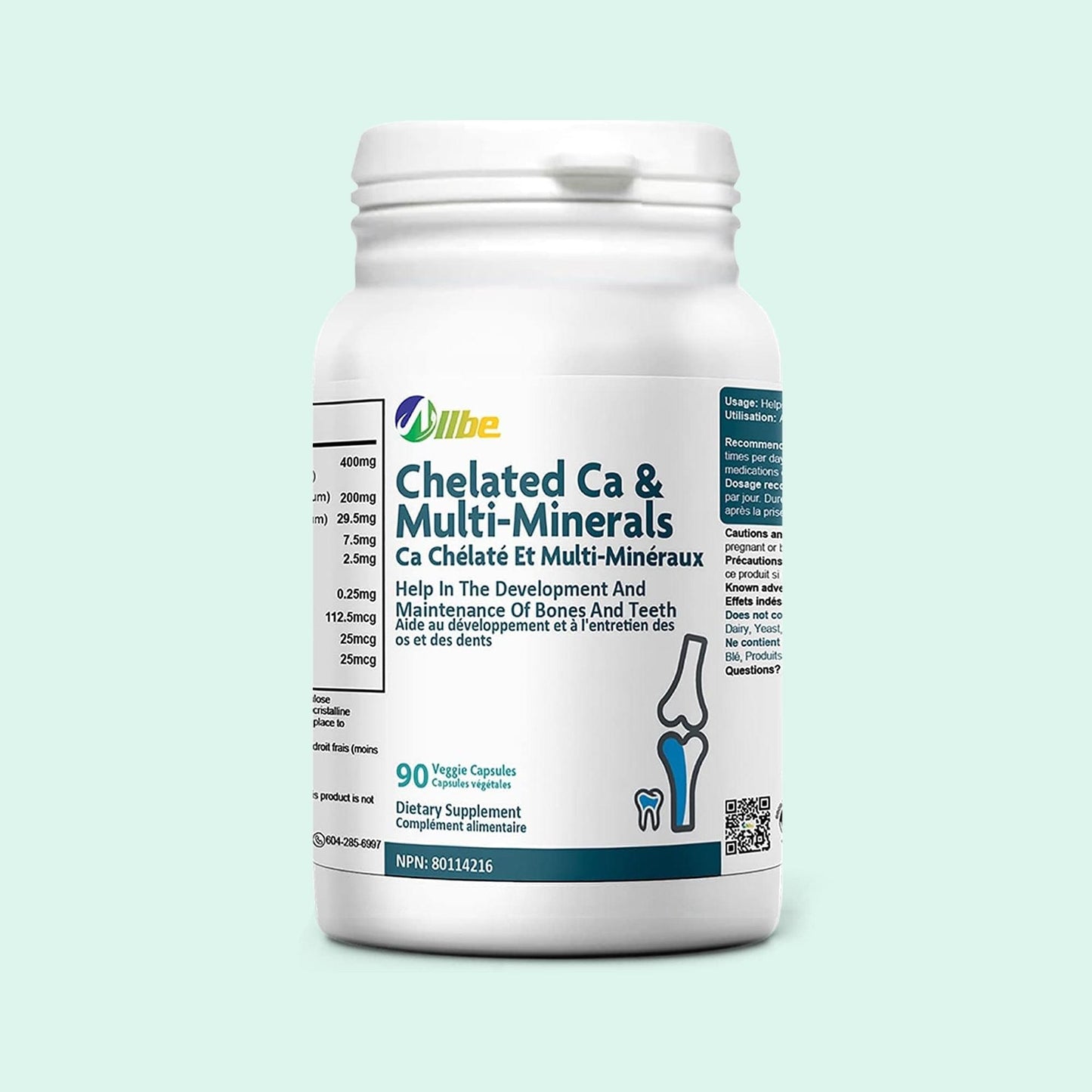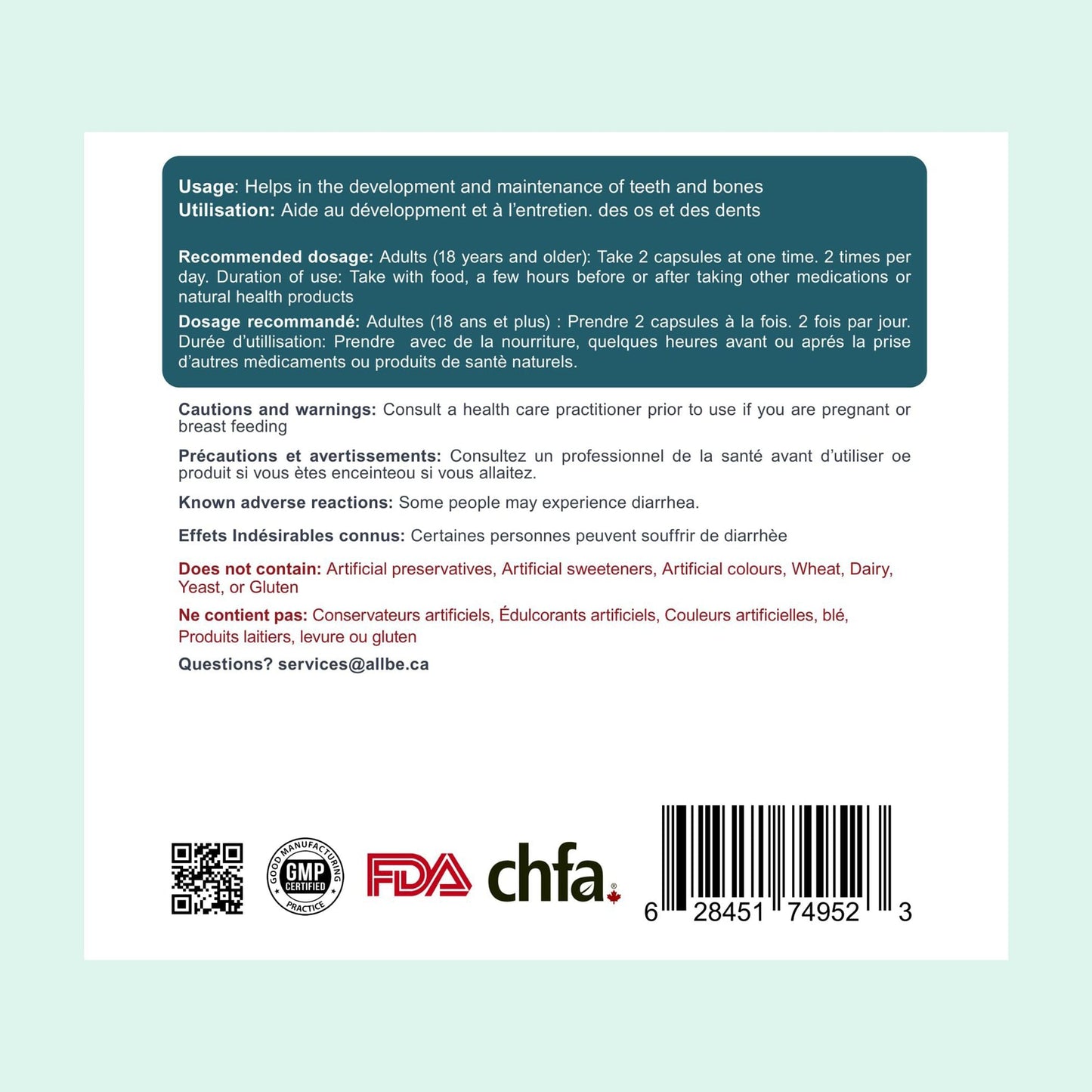 Description
expand_less
expand_more
A step towards a stronger you
Calcium is an all-rounder mineral for vital body functioning, including cardiac, muscular hair, and skeletal health. The chelated calcium supplements make your bone stronger and more resilient towards wear and tear. In addition to strengthening the bone structure, it makes a person less prone to osteoporosis and osteoarthritis.
The magnesium and iodine present in our supplements improves thyroid functioning and hormonal balance. They also regulate the formation of red blood cells, which means better circulation.
Other multivitamins also enhance and improves glucose metabolism and nutrient absorption.
Benefits
expand_less
expand_more
Chelated Ca And Minerals helps you in the following.
Stronger bones and teeth
Supplementing your body with calcium adds to the calcium makeup of bones and teeth, making them resilient towards pressure. It also reduces the risk of osteoporosis in women at later ages. Other minerals like potassium, zinc, and copper add to the bone mass. This works best for those with limited dietary intake to suffice their recommended dietary mineral and vitamin intake.
Healthy hair and nails
Chelated Ca and mineral supplements make your hair, nails, and skin vital and young. It rejuvenates the human body like youth.
Better muscular strength
If you are done with fatigue and stressful muscles, chelated Ca and mineral supplement is your thing. It provides the muscles with the needed minerals for muscle contraction and flexibility.
Stronger immunity
Calcium supplements are involved in immune cell activation. Other than calcium, selenium present in our supplement supports the production of selenoproteins for immune response.
Optimum metabolism
Calcium within the supplements facilitates food movement across the membrane, thus facilitating metabolism. Besides calcium, magnesium and zinc assist in enzyme activity, and iron transports the oxygen for glucose fate for energy production.
Helps with sleep
Calcium supplements promote the production of melatonin, which improves the quality of sleep.
Benefits
expand_less
expand_more
Ingredients
expand_less
expand_more
Your multivitamin aid in overall health
• Calcium
• Magnesium
• Zinc
• Manganese
• Potassium
• Copper
• Iodine
• Selenium
• Chromium
Recommended Intake
expand_less
expand_more
As per recommendation, two capsules at a time and twice daily is considered safe and healthy to get the desired results. You can also have 3-4 tablets daily for acute mineral deficiency. It is best to take it along with your meal to double the effects on health.
For years, we've been the go-to choice for customers looking for reliability and quality
Stronger bones, better you
Enhance your wellness routine
Nutrient-packed for strong bones & teeth
Chelated Ca & Multi Minerals Pack of 2
Support your bone health with 2 bottles of Chelated Ca & Multi-Minerals capsules. Get the essential minerals your body needs for strong and healthy bones.
Chelated Ca & Multi-Minerals pack of 3
Take care of your mineral needs with 3 bottles of Chelated Ca & Multi-Minerals capsules. Maintain optimal mineral balance and support overall health.
I've been taking these supplements for a few weeks now, and I'm really impressed with the results. I no longer feel sluggish or run down in the afternoons, and I'm able to maintain my energy levels throughout the day. Additionally, I appreciate that these pills are made with natural ingredients, which is important to me.
Overall, I would definitely recommend these supplements to anyone looking for a natural and effective way to boost their energy levels.

Discover the power of ALLBE making wellness impacts on our valued customers.
I am really impressed with this hair and nail supplement. My nails are stronger, my bones feel healthier, and my hair is shinier than ever before.
I've been using these chelated calcium supplements for a few months now, and my dentist was pleasantly surprised with my improved teeth health.
I love that this mineral supplement includes a variety of essential trace minerals, not just calcium and magnesium. My overall health has improved since taking them.
I've noticed a difference in my muscles since taking this Magnesium supplement. As well as being relieved of pain, I was able to feel an increase in muscle size.
Your bones deserve better
Our best calcium supplement for bones provides the nutrients you need
for a healthier, happier life.
Frequently asked questions
Can I take The chelated Ca and Mineral supplement during pregnancy or breastfeeding?
expand_less
expand_more
Yes, you can have chelated Ca and mineral supplements during pregnancy and breastfeeding as they nourish the women's body with nutrients to suffice her high demands for nutrients and energy.
What Is The Best Time To Take Calcium Supplements?
expand_less
expand_more
Having your calcium supplement with a meal is the best time to benefit. This is because our body absorbs calcium more rapidly with a meal.
What is the best form of calcium as a supplement?
expand_less
expand_more
Calcium carbonate tends to be the best and the most potent form of calcium supplement as it sources you with a concentrated form of calcium.
What Happens When You Stop Taking Calcium Supplements?
expand_less
expand_more
Stopping your calcium supplement means putting your body on rewind. It will undo all the benefits you have gained with chelated supplements so far, or worse; it will weaken your body more than before since it has now become dependent on supplements for nutrient needs.
The secret to bone vitality
Unlock the full potential of your bones with our all-in-one supplement for
bone and teeth development.
Easy to Swallow
ALLBE Chelated Ca & Multi-Minerals Capsules is nicely formulated. It seems to be made of quality ingredients. The capsules are easy to swallow. I usually take it with food to avoid upset stomach. I will report back if I experience any side effects from taking it. Overall it is a quality supplement.
Taking These Nightly - Fantastic Combo
I take one of these just before bed to help with muscle spasms and cramps. They work well and are a premium, Canadian-made supplement. (ALLBE Chelated Ca & Multi-Minerals Capsules, 400mg Calcium and 200mg Magnesium with 7.5mg Zinc Supplements, Pack of 90 Bones and Teeth Support Capsules, Serving Size: 2 Capsules). Easy to swallow as they're encapsulated in a premium coated capsule - but they're the 'regular' size of capsule. Trustworthy brand and fantastic supplement. I'm happy with them.
Great value for what you get
Considering how many important minerals you get in one capsule - I think it's a great value.
Great composition not only for bone health, but also for nervous system (and this mainly why I ordered it).
A complete Package
I'm absolutely thrilled with my new Chelated Ca and Mineral supplement! Not only does it provide me with the essential nutrients my body needs, but it also has had a positive impact on my overall well-being. I feel stronger, more energized, and my bone health has improved.
Easy to digest
The Chelated Ca and Mineral supplement is gentle on my stomach, and I appreciate the added vitamins and minerals it provides.